Manhattan — Lawrence High pitcher Will Falk would like to have one back.
"A four-seam fastball," a sighing Falk said Tuesday after Lawrence High's 5-3 Class 6A sub-state loss to Washburn Rural at Norvell Field.
Falk, an LHS senior, was trying to protect a 3-2 lead in the fifth inning when he grooved a four-seamer to Rural's Drew Paul, who weakly fouled it down the first-base line.
But Falk came with the same pitch again, and Paul smashed a solid home run that not even a gusty wind could slow down.
Before the bomb, it seemed LHS was headed for a 7 p.m. date with top-seeded Manhattan for a berth in next weekend's state tournament in Lawrence.
But Paul's three-run shot didn't just signal the Lions' doom -- it ended Lawrence's season at 8-12 and closed out five seniors' careers.
"I love this team. They've done some big-time things," first-year Lawrence High coach Brad Stoll said. "Our whole goal was to be a better team in May than we were in the beginning, and I think there is no doubt we definitely did that."
LHS scored three runs on three hits and two Junior Blues errors in the top of the third, and at that point it appeared the Lions would play at least one more game.
Michael Sickinger and John Novotny started the inning with singles up the middle. The two advanced on Travis Hart's sacrifice bunt, and Sickinger scored on Brian Heere's second double of the day.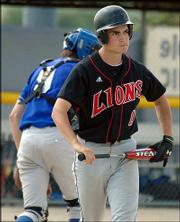 Nick Madl dropped down a suicide-squeeze bunt, but Novotny was called out when he slid into home. However, Rural catcher Casey Parman saw Heere off the bag at third and tried to throw him out, but the ball trickled into the outfield and Heere scored for a 2-0 LHS lead.
The Lions earned their final run when Madl rounded the bags after Marc Albers hit a hard ball that bounced off Junior Blues third baseman Kyle Schrag.
Rural (10-11) answered with two runs in the bottom half of the inning with a lone hit and two LHS errors.
Junior Blues hurler Aaron Crow, a Missouri signee, was solid, allowing the Lions a single hit outside the third frame. The 6-foot-3, 190-pounder struck out six Lions in seven innings of work.
Falk equally was effective with six punch outs in five innings, including striking out the side in the fifth. But that came after Paul had powered what would be the game-winner after Falk allowed a lead-off single and a walk.
"It's a very tough loss for all of us, especially knowing that we didn't play bad at all," Falk said. "It was just the difference in that one ball I threw."
But Stoll, a former Free State High assistant, said he would remember his first LHS squad went from a group of kids "trying to find themselves" into a "team at the right time of the year."
"I feel so sorry for the seniors, because they had one year and they poured their hearts into this thing," Stoll said. "But I hope they remember their reward is the fact that they laid the foundation for future Lawrence High baseball teams."
Copyright 2018 The Lawrence Journal-World. All rights reserved. This material may not be published, broadcast, rewritten or redistributed. We strive to uphold our values for every story published.