For nearly a year, Detective Doug Woods lost sleep because he felt responsible for not getting a confession out of a professor suspected of killing his ex-wife.
Woods said he'd wake up in the night and ask himself, "Could I have asked questions in a different way?"
But tonight, Woods and others involved with the Thomas E. Murray case can put their feet up and watch the story of Murray's conviction unfold on national television.
CBS News' "48 Hours" episode about the case, titled "A Mind for Murder," will air at 9 p.m. on Sunflower Broadband Channels 5 and 13.
Murray walked free for 11 months as the Douglas County Sheriff's Office tried to build a case against him in the November 2003 stabbing and beating of Carmin D. Ross.
Woods, 37, said that shortly into his interview with Murray on Nov. 14, 2003, he left the room, called then-Lt. Kenny Massey and told him, "I think we've got the right guy."
Woods said he thought it was just a matter of getting Murray to confess. He and the other detective in the room, Pat Pollock, decided on an empathetic approach: letting Murray know they understood how frustrating it was to be in a child-custody battle.
But after nearly 10 hours of interrogation and suspicious statements, Murray maintained his innocence and walked out of the room free.
"We never pushed the right button," Woods said.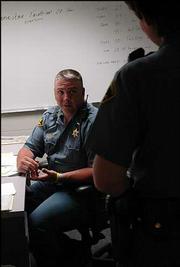 Between that night and the day of Murray's arrest in October 2004, Woods said he'd wake up several nights per week thinking about whether he should have used a different tactic.
'What if we had never told him that Carmin died?" he asked.
The CBS crew, with correspondent Richard Schlesinger, filmed Murray's trial in its entirety. They interviewed attorneys, sheriff's deputies and members of Ross' family, among others.
Not all the footage the crew gathered was spontaneous. Woods, who is now a lieutenant in charge of patrol, said he and other detectives were asked repeatedly to put on their sunglasses, get out of cars, or holster their guns.
"I had to walk up and down the road in front of Carmin's house 10 or 12 times," he said.
Ross' father, Danny Ross, said he and members of his family planned to watch tonight from their home in Lapel, Ind. The family agreed to speak with CBS News at length and let them into their home.
"The thing I've had to second-guess all along was whether we should have done it," Ross said. "I really wanted more focus on Carmin and who she was. I'm not sure I have a lot of confidence that "48 Hours" is going to address that as strongly as I would have preferred. I don't know that. They may."
Shortly before the trial began, CBS correspondent Schlesinger said, "We'll just try like hell to tell everybody's story."
CBS' "48 Hours" episode of the murder case of Thomas E. Murray, above, will air at 9 p.m. today on Sunflower Broadband Channels 5 and 13.
Undersheriff Kenny Massey, who was supervising detectives at the time of the investigation, said he planned to watch even though he chose not to be interviewed. Former Sheriff Rick Trapp, who was in office throughout the investigation, also will be tuned in.
"It's something you can't really not watch," he said.
Copyright 2018 The Lawrence Journal-World. All rights reserved. This material may not be published, broadcast, rewritten or redistributed. We strive to uphold our values for every story published.