Whitney Sizemore is not a cycling aficionado, but the 2005 Collegiate Road National Championships in downtown Lawrence on Friday hooked her.
"What's not to like about it?" Sizemore, a Lawrence resident, asked. "I love seeing the determined looks on their faces as they come by."
The look on the face of Greg Guenther -- owner of The Palace Cards and Gifts, 8 W. Eighth St., was not one of determination. More like resignation.
"We're going to lose a lot of business today, if not all of our normal business," Guenther said shortly after the races began Friday morning.
It was that type of day in downtown Lawrence. Some people loved the event, which required closing major portions of Massachusetts, Vermont, New Hampshire, Seventh, Eighth, Ninth and 10th streets from 8 a.m. to about 3:30 p.m. For other folks, love wasn't exactly the emotion running through them.
"I support closing down Mass. for festivals and parades," said Jeff Webb, owner of Jefferson's Restaurant, 743 Mass. "But when you close all the streets and alleys around it, there is no way for me to get delivery trucks down here. It is a huge pain."
Everybody agreed that the event was unique. It started in a steady rain at 8 a.m. as the first of five races -- technically called criteriums -- began. Top cyclists from both NCAA Division I and Division II schools sped around the one-mile, L-shaped track for races that lasted approximately an hour each. The action often featured packs of 20 to 30 cyclists riding within inches of one another as they took corners normally reserved for shoppers and downtown employees.
It was a sight that caught the attention of shoppers. Lawrence resident Susie Wilson needed to do some downtown shopping and decided Friday would be a good day.
"It was a thrill to see all the bikes coming at you. He really loved it," Wilson said, pointing to her 6-year-old son, Ben.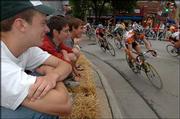 Other shoppers had complaints. A man who would only identify himself as Mark was angry after walking six blocks to pick up a tuxedo for his daughter's wedding.
"They shouldn't have this in downtown," said the man, who wouldn't give his full name because he is an employee of the city, which approved the closing of the city streets.
There were merchants, though, who appreciated the event. Cara Connelly, an owner of Silver Works, 715 Mass., said she knew that the event was attracting people to downtown who wouldn't otherwise be here.
"I had lunch at the Smokehouse and there were three older women checking out and they told me they were from Topeka," Connelly said. "They said they wouldn't have missed this. I wish more Lawrence people would have that attitude."
Bill Mitchell, race director, urged frustrated merchants to be patient. He said the rainy weather may have kept crowds down, but he was confident the estimated 1,000 racers and fans who came to town for the event would be an economic boon.
The 2005 Collegiate Road National Championships continue with today's 6 a.m. road race at Perry Lake and team time trials 7 a.m. Sunday on the South Lawrence Trafficway.
"I would just say they (merchants) have to keep their chins up," Mitchell said. "The athletes will be here three more days. One rainy day doesn't mean we're going to have a bad weekend."
The event is scheduled to come back to Lawrence for the next two years. City Manager Mike Wildgen said the event would again have to receive permission from city commissioners to close the streets for events in future years. Wildgen also said he did not have an estimate for how much the event cost the city, which provided workers from the Public Works and Police departments.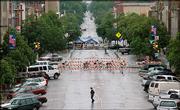 "We support it like we do the Band Day parades or Earth Day parades," Wildgen said.
Some merchants said they would like the event to return to the city but did not want the course in downtown.
Mitchell said the downtown course was a major drawing point for the event's organizer, USA Cycling.
"It truly is a championship course," Mitchell said. "All the amenities are here for the athletes. The athletes couldn't ask for anything more."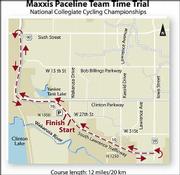 Athletes agreed. Several said the one-mile length was ideal, and the course featured wide turns that made for good racing.
"The roads are smooth and you can really carry your speed," said Brian Keegan, a racer from the University of New Hampshire.
Some merchants also want to see the race return to downtown next year.
"I love this," said Chuck Magerl, owner of Free State Brewery and Wheatfields. "It is highly disruptive, but this is what life is about. It is important in maintaining the vitality of downtown to do new and different things. I would love for the people who are in town for this to go back home and tell their friends that next year they ought to be in Lawrence, Kansas."
Copyright 2018 The Lawrence Journal-World. All rights reserved. This material may not be published, broadcast, rewritten or redistributed. We strive to uphold our values for every story published.