They say it was racial discrimination. She says it was the Lord telling her not to rent to fornicators.
Closing arguments are expected this morning in a civil-rights trial involving a Lawrence couple, Adrianne Morales and Wayne Jackson, who say they were turned down for an apartment in 2002 because she's Hispanic and he's black. But the apartment manager, Lynne Sander, says she rejected them because God recently had told her she shouldn't rent to unmarried couples.
"I am following God's law," Sander told jurors on Wednesday. "I did not discriminate against them. For my morals and my integrity, I did what was in my heart."
Jackson and Morales are each asking for $10,000 in damages for humiliation and embarrassment, plus about $3,000 in damages for increased rent they paid at a different apartment.
On Morales' first visit in February 2002 to Villa 26 Townhomes , 2109 W. 26th St., the management was friendly and engaging, Morales said. But she alleges the picture changed when she showed up again with Jackson.
Jackson testified that Sander was distant and cold to him throughout the visit.
"It was the way I was treated as a whole during the whole time we were there," Jackson said. "She didn't acknowledge that I was there."
The next month the couple learned they'd been denied.
First-time case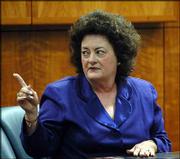 The case was investigated by the city's Human Relations and Human Resources department in 2002, which found probable cause there was racial discrimination. Instead of settling the case, owner Rex Youngquist took the almost unheard-of step of asking for a trial in District Court.
"I don't have a bit of blood in me that discriminates against anyone," said Youngquist, who is Sander's father.
The director of the city's Human Relations and Human Resources department, Rehelio Samuel, testified it's the first housing-discrimination trial in District Court he's seen in 33 years on the job. All the others are handled out of court, he said.
Technically, the city is suing Youngquist, his daughter Gail Youngquist, who was a co-owner, and Sander on behalf of Morales and Jackson.
Samuel testified it was legal to not rent to unmarried couples, as long as it's done consistently.
But Bruce Plenk, a private attorney hired by the city, pointed out that Sander allowed other unmarried white couples to stay in the apartments, and one unmarried white couple was allowed to rent after Morales and Jackson were turned down.
Sander said the reason she didn't speak to Jackson during the visit was that she was having a religious experience.
"I was so much in prayer I just couldn't answer them," she said.
Tumbling down
She said that at the time she was so concerned about renting to unmarried couples that she would drive around the complex again and again, pretending it was the biblical city of Jericho -- and believing that the walls might figuratively come tumbling down.
"I earnestly believed that God would help me and just send me the people that he wanted," she said.
Witnesses on Wednesday included Sander's pastor, Leo Barbee of Victory Bible Church. Barbee, who is black, said he'd never seen Sander act in a racist manner. He said he believed she made the right choice.
"To live together, whether we want to admit it or not, is wrong," he said. "It's fornication."
Copyright 2018 The Lawrence Journal-World. All rights reserved. This material may not be published, broadcast, rewritten or redistributed. We strive to uphold our values for every story published.