Free State junior Keith Pipkin admitted he was a tad disappointed when he saw Lawrence High senior Tommy Johnson's name missing from the No. 1 singles bracket Tuesday morning, but it obviously wasn't in his head for too long.
Despite not being able to take on his friendly rival in the process, Pipkin took home third place in his bracket at the Sunflower League championships at the Lawrence Tennis Center. His strong showing was part of an all-around solid day for the Firebirds, who took third in the league as a team.
"I was wondering why he was playing doubles. I wanted to play him," said Pipkin, who attributed his jump from seventh in league a year ago to his growing consistency.
"I'm winning the matches here I should win because I've played a lot of people who aren't as good as me, and I've lost. But this year I've overcome that."
After stumbling against Shawnee Mission East's Will Gates, who was the top seed, in the semifinals, he took out his frustration on an exhausted Michael Warren of Shawnee Mission Northwest.
Warren, playing in his fourth match of the day and fresh off of a whoopin' from eventual champ J.T. Christian of Olathe Northwest, was an easy mark for Pipkin's thunderous overhands and well-placed serves. The heat didn't help Warren either, as Pipkin made quick work of him in two sets.
On the adjacent court at the same time, senior Charles Guard was bringing home another chunk of points for the Firebirds in the No. 2 singles finale.
Guard was the bracket's second seed, and the field eased up after top-seeded Brad Williams of Olathe South was knocked off in the quarterfinals. Shawnee Mission East's Corey Waldman grew frustrated after a series of missed shots down the line, and lost the first set 6-3. Smelling blood, Guard swept him 6-0 in the second set.
Free State's spot in the standings was sealed when the No. 2 doubles team of Stephen Donly and Zack Morgenstern, after winning the first set 7-5, rallied in three sets to take out Shawnee Mission South's Devin Turner and Alex Brainard.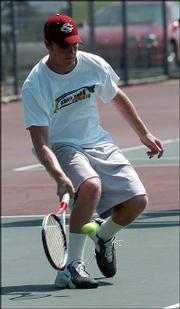 The day wasn't nearly as pleasant for the Lions individually, but they placed right around where they had expected to at eighth.
The reason Johnson was not able to avenge his earlier loss to Pipkin -- which he did last year at league -- was because he's played doubles for the past month or so with fellow senior and best friend Rahul Gogineni.
They nearly upset the fifth-seeded duo of Evan Hoisington and Anish Patel from Olathe Northwest, but lost in a tiebreaker to start the day, though they rebounded to take ninth from Free State's Jack Hull and Drew Schelar, who were frustrated following an opening round setback.
The Lions' No. 2 doubles tandem of Noah Welch and Gardner Burg felt similar emotions after losing in their first match as the third-seeded combo, but rebounded to take fifth.
The league title was taken home by Shawnee Mission East, with 46 points, followed by Olathe East with 38.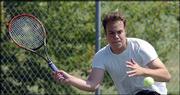 Sitting behind those two heading into Monday's regionals, Free State coach Jon Renberger, couldn't have asked for more from his young team.
"I told the guys that really I was most interested in seeing how we were going to finish in relation to Shawnee Mission South, who beat us the first dual of the year, and Olathe South, who finished ahead of us in our quad, and Olathe Northwest, who we tied in our quad," Renberger said. "We beat all those teams, and it shows that we have improved throughout the year, and that was really the most important thing."
Copyright 2018 The Lawrence Journal-World. All rights reserved. This material may not be published, broadcast, rewritten or redistributed. We strive to uphold our values for every story published.