Megan Hrenchir was no Maytag repairman Thursday afternoon.
Hrenchir, Free State High's soccer goalkeeper, was kept busy constantly as once-beaten Olathe North peppered the Firebirds' posts on the way to a 5-0 victory.
Free State coach Jason Pendleton couldn't say enough about Hrenchir's performance.
"I think that was her best game," Pendleton said. "She made some big-time saves."
And lots of them, as the Eagles, ranked No. 3 in the state, spent most of the match on the Firebirds' end of the field.
On the flip side, Hrenchir wasn't all that pleased with her performance.
"To me, it seemed like I gave up a couple of cheap goals, and that's disappointing," the sophomore said. "I did have a couple of good saves, but those cheap goals were horrible."
Hrenchir is listed as a goalkeeper and forward on the Firebirds' roster, but she has played outside the box only once this spring, and that was for a half in a rout of Junction City.
"I really like playing in goal," she said. "It's hard because you're the last line of defense, but it's a fun challenge."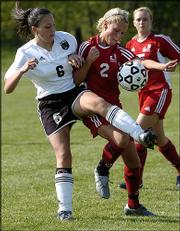 Olathe North challenged Hrenchir all afternoon during the Firebirds' last home game of the season, but she held her own. So, for the most part, did the young Firebirds, who had only two seniors -- Nicki Riggins and Claire Wilkinson -- bow out Thursday.
"We had a couple of chances in the first half," Pendleton said, "but we hit the post and missed an open net."
Olathe North senior Hazel Cox, a Central Missouri State signee, recorded a hat trick with a goal in the first half and two in the second.
Creighton signee Lindsay Vaught also scored, and junior Lauren Almeida posted the Eagles' last goal with less than three minutes remaining.
"We played reasonably well," Pendleton said. "They're just so potent, and we ran out of gas in the second half playing our fifth game in seven days."
The Firebirds (2-12-1) will travel Tuesday to Shawnee Mission Northwest.
Copyright 2018 The Lawrence Journal-World. All rights reserved. This material may not be published, broadcast, rewritten or redistributed. We strive to uphold our values for every story published.