In Molly Crook's book, changing a tire that's been blown out from a poor street is a worse way to be delayed than creeping through a slow-moving road construction zone.
Crook, a Lawrence resident who moved here from Dallas a year ago, said that was something for Lawrence motorists to keep in mind as the city's summer road construction season gets into full swing.
"It is a pain, but I guess I would rather have it get done than not get done," Crook said of the bevy of road construction projects that have begun in the city. "Where I used to live they didn't fix anything, and I blew out two tires. That's a real pain."
Motorists will have plenty of opportunities this summer to try the positive-thinking approach, as construction projects are either under way or planned for several high-traffic areas of town, including Sixth Street and downtown.
But residents along Harvard Road may be having the hardest time thinking good thoughts at the moment. City crews on Monday shut down the road from Monterey Way to Wakarusa Drive to install two roundabouts, a traffic circle and several speed cushions. Work is expected to continue through September.
"I guess we'll get used to it after a while, but we actually had to stop and think about how we would get out of our neighborhood to get to downtown today," said Cris Bandle, who lives along Harvard Road.
Chuck Soules, the city's director of public works, said his office had received several calls from residents in the area.
"When they left for work (Monday) everything was all right, but when they came home from work it wasn't," Soules said. "People are coming home and finding out that they needed to go a different way. That will continue for a while."
Soules said his department did mail informational fliers to residents in the area and had public meetings about the project, but he said he understood that many residents don't begin paying attention until they begin seeing the work. Soules said residents in the area should regularly check the department's Web site, www.lawrencepublicworks.org, to check for updates on the project because construction crews will be closing and opening different intersections along the stretch of Harvard Road.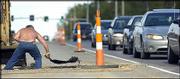 Jeff Bandle said he thought many residents were inconvenienced by the construction but would learn to live with the temporary hassles because many residents had asked the city to install the traffic-calming devices.
"The speeds get pretty fast out there, so I won't complain too loud because I think it will make the situation better for the long term," Bandle said.
Soules said he's simply asking all Lawrence motorists to be patient. He said because of the area's cold and wet winters, city crews had to cram a lot of road construction into a relatively short summer season.
"I know it is tough, but just think of the long-term benefits," Soules said.
Here's a look at several major road projects that will be under way this summer:¢ West Sixth Street: Traffic is cut down from one lane in each direction from the South Lawrence Trafficway to Folks Road. The improvements will widen the road to a four-lane street along the entire route and also will add several left-hand turn lanes. The westernmost portions of the road will be under construction until summer 2006. The stretch between Folks Road to Wakarusa Drive is expected to return to two-lane traffic by Oct. 1.¢ Sixth Street between Maine and Massachusetts streets: The stretch of road will be repaved and restriped. The restriping will be done in a way that will allow for a center turn lane. The project is expected to begin shortly after Kansas University's graduation ceremonies. It should be done by the time school starts again in the fall.¢ Seventh and Kentucky streets: Work is under way on a project to add a traffic signal at the intersection. Traffic will be reduced to one lane on Kentucky Street, and Seventh Street soon will be closed to traffic for several weeks. The project is expected to be completed by late July, weather permitting.¢ Massachusetts Street: A project to replace an aging waterline is under way and has begun to affect traffic at Sixth and Massachusetts streets. Eventually, the portion of Massachusetts Street will become a one-way street during the construction period. The project is expected to last until at least late August.¢ Oregon Street area: A storm water project is scheduled to soon shut down 15th Street from Haskell Avenue to Connecticut Street. Delaware and Pennsylvania streets also will be closed to through traffic from 12th to 14th streets. City crews, though, are scheduled to reopen 13th Street in the area. The project was delayed by a wet winter and could last two additional months.¢ Approximately 40 other sections of roadway will receive maintenance work that will affect traffic this summer. For a list of those locations, click here.
Copyright 2018 The Lawrence Journal-World. All rights reserved. This material may not be published, broadcast, rewritten or redistributed. We strive to uphold our values for every story published.