Steady winds, occasional rain and dropping temperatures couldn't stop the Lawrence High track team from competing Wednesday.
Even the lack of an opponent couldn't stop the Lions.
A dual meet against Leavenworth at LHS turned solo when the Pioneers abruptly left after the 400-meter dash. Pioneers coach Willis Willmuth said he didn't want to risk injuring athletes on the wet track.
Lawrence coach Scott Stidham said he wished Leavenworth had stuck around, but saw no reason why his team shouldn't finish.
"We would have liked for them to stay, but we understand why they left," Stidham said. "But our kids still got to run. We had real timers there and a real starter, so they got real times."
Distance runner Matt Riley got real times: He ran all three distance events within about an hour. About 45 minutes after Riley placed second in the 1,600 in a time of 4:54, he ran the 800.
In part because of Leavenworth's early departure, Riley only got a few minutes rest after the 800 and before the 3,200. The only event in between was the 200, which only had two runners and took little more than 30 seconds to complete.
Stidham was impressed with Riley's toughness.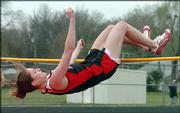 "To tell you even more about it, I told our distance coach, I said, 'Coach, talk to Riley and see if he wants to do this two-mile. He got, I don't know, two minutes rest?'" Stidham said. "The next thing I know is, he's lined up and ready to go."
Riley seemed to struggle in the opening two laps of the eight-lap race, but paced himself to a first-place finish in 11:15.
"I kind of used the first two laps of my two-mile to recover," Riley said. "It was fun in a weird way."
Megan Johnson ran the 800, which combined both boys and girls races. Johnson easily was the top girls finisher and wasn't too far behind some of the boys.
Johnson said her time of 2:40 wasn't what she had expected, but was pleased with the effort considering the conditions and stunted competition.
"It really isn't a good meet to go after good times," Johnson said. "This really isn't anything compared to what we have coming up."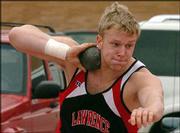 Stidham said he was encouraged by his athletes' willingness to finish the meet and compete in several events.
"One of the most exciting things I was pleased with was we had four 4x800 and four 4x400 teams. And to get 16 kids willing to run those tough races, I think, tells a lot about our team and where we are," Stidham said.
"We keep getting better and improving. There are three big meets we're working for: league, and, more important than that, regional and state."
The Lions will travel April 8 to Topeka High.
BoysLawrence High 102, Leavenworth 40LHS placers3,200 relay -- 1. Lawrence High 9:01:03 (Mark Kucza, Kyle Morgison, Drew Vogel, Andrew Avila).110 hurdles -- 2. Travis Gage 18.98.100 -- 3. Brandon Lassiter 11.65.1,600 -- 2. Matt Riley 4:54.20. 3. Jacob Kucza 5:10.10.400 relay -- 1. Lawrence 54.28.Pole vault -- 1. Ramin Zangeneh 13 feet. 2. Brendan Halpin 10-6. 3. Nolan Kellerman 9-6.High jump -- 1. Cole Walker 5-6. 3. Mitchell White 5-6.Shot put -- 1. Scott Penny 48-9. 2. Stephen Paea 43-6.Discus -- 1. Penny 157-7. 3. Paea 123-6.3,200 -- 1. Riley 11:15.65. 2. J. Kucza 11:22.20. 3. Andrew Grover 12:07.06.1,600 relay -- 1. Lawrence High 3:50.26 (Halpin, Lassiter, Kellerman, Nathan Hickey)Javelin -- 3. Jason Guzman 150-7.Triple jump -- 1. Jordan McKinney 36-10. 2. Kameron Demby 36-71/2. 3. Richard Demby 36-1.300 hurdles -- 1. Gage 48.52Long jump -- 1. R. Demby 17-11. 2. Lassiter 17-2.200 -- 1. Matt Stiles 26.74.800 -- 1. Morgison 2:15.00 2. Riley 2:16.60. 3. M. Kucza 2:16.90.400 -- 2. K. Demby 56.72. 3. Kendall Francisco 56.87.GirlsLawrence High 79.5, Leavenworth 49.53,200 relay -- 1. Lawrence High 4:11.97 (Megan Johnson, Emily Renfro, Emily Torres, Kara Kellison),100 hurdles -- 1. Amy Magnuson 15.49400 -- 1. Kaley Houk 1:12.50, 2. Whitney Coleman 1:18.25.Pole vault -- 1. Chelsey Ornburn 8 feet. 3. Laura Windheuser 7-6.High jump -- 1. Liz Beisner 5-0. t-3. Becca Hinshaw 4-2Discus -- 1. Erin Kramer 100 feet. 3. Heather Tidd 73-1.Javelin -- 2. Bonnie Toplikar 89 feet-5. 3. Morgan McQuay 82-9Triple jump -- 1. Magnuson 31-71/2. 2. Torres 26-11. 3. Alyssa Lorenz 25-1.1,600 relay -- 1. Lawrence High 4:51.61 (Houk, Beisner, Renfro, Johnson)Long jump -- 1. Magnuson 14-8200 -- 1. Coleman 33.31 seconds300 hurdles -- 1. Beisner 58.03. 2. Torres 1:00.50800 -- 1. Johnson 2:40.31. 2. Hanna Gentry 3:12.00.
Copyright 2018 The Lawrence Journal-World. All rights reserved. This material may not be published, broadcast, rewritten or redistributed. We strive to uphold our values for every story published.