Topeka — Kansas University's Wayne Simien on Wednesday added another frame to his highlight reel: bringing Republicans and Democrats together in the Capitol.
Regardless of political party, state officials praised the All-American senior for his basketball skills, academic achievements and high morals.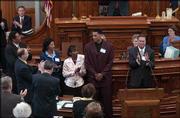 Rep. Kenny Wilk, R-Lansing, described Simien, of Leavenworth, as "the very best Kansas has to offer. He is a true all-American citizen, human being and outstanding ambassador for the state of Kansas."
Gov. Kathleen Sebelius met with Simien and his parents, Margaret and Wayne Sr., sister, Dione Leng, and KU coach Bill Self. Then the 6-foot-9-inch forward was shuttled to the Senate and House, followed by a phalanx of fans and photographers.
Sen. Roger Pine, R-Lawrence, said Simien excelled at basketball while finishing his degree in sociology in four years.
"This couldn't be accomplished without dedication, hard work and keeping things in perspective," Pine said.
Sen. Marci Francisco, D-Lawrence, wished Simien good fortune in the future.
"Enjoy what you've accomplished; enjoy your walk down the hill," she said.
Simien spoke briefly in the House saying he was glad to see the chamber began its daily session with a prayer.
"It has become quite a cliche, but there's no place like home," he said.
Self said Simien was "real" and benefited from a foundation of family and Christian faith.
On the court, Self said, Simien "put a team on his back numerous times. I'm certainly proud of him. I never coached a better kid."
Copyright 2018 The Lawrence Journal-World. All rights reserved. This material may not be published, broadcast, rewritten or redistributed. We strive to uphold our values for every story published.