It was a day of fun and frustration for Free State High's Nick Martinez on Tuesday at the FSHS tennis courts.
The senior, who was playing competitively for the first time in two years in Free State's season-opener against Shawnee Mission South, quickly found success when he and Keith Pipkin disposed of South's No. 1 doubles team of Jacob Lord and Devin Turner, 8-0.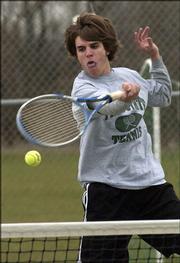 "It was a pretty neat way to restart my career," a smiling Martinez, who for the last two springs played golf for the Firebirds, said after the Firebirds' 5-4 loss to the Raiders.
"But Keith carried me. He's just the kind of guy that makes everyone better."
Unfortunately, Martinez's day took a downturn when he fell in his singles match, 8-4, to SM South's Alex Brainard.
"It was still a good day overall," Martinez said. "I'm pretty happy with how I played considering I hadn't picked up a racket against an opponent since I played at West Junior High. Obviously, I was a little rusty, but I think that I showed a few signs of getting my game back to a high level."
Pipkin dominated Lord, 8-1, in his singles match, and Free State senior Charles Guard and sophomore Jack Hull won their individual matches. But the other three Firebirds fell in singles and also lost two doubles matches.
"Obviously, it's not exactly the kind of start we wanted," Free State coach Jon Renberger said. "Especially the way our doubles team performed. But the good thing was that everyone battled and was highly competitive."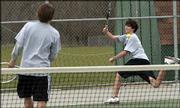 Renberger said Martinez had a good day.
"Once he settled down a little and found out his opponent's weakness, he started to find his old comfort zone," Renberger said. "I think he's eventually going to be a contributor for us this year."
Copyright 2018 The Lawrence Journal-World. All rights reserved. This material may not be published, broadcast, rewritten or redistributed. We strive to uphold our values for every story published.