Wichita — Soaring gasoline prices at the pump are fueling consumer interest in cheaper fuels such as ethanol, boosting the fledgling domestic industry even as production sets records across the nation.
In Kansas, ethanol fuels that can be used in any vehicle now go for between 2 and 10 cents a gallon below the cost of the lowest grade gasoline -- and the less expensive ethanol offers higher octane ratings.
Savings are even greater for flexible fuel vehicles that can run on as much as 85 percent ethanol, or E85 fuel, that is now selling for as much as 30 cents a gallon lower than conventional gasoline.
That price differential was needed for consumers to move toward ethanol blends as part of their mainstream buying habits, said Jere White, executive director of the Kansas Corn Growers Assn.
"Some consumers could relate to ethanol being a Kansas product and good for the economy, but -- quite frankly, when you are suffering sticker shock at the pump anyway -- if they had to pay a few cents more for ethanol blends, even with their higher octane, it would be a hard choice to make," White said.
The choice has suddenly become a lot easier.
"Ethanol blends are priced equal to or less (than gasoline) at retail level, and that presents consumers with quite a different choice: They don't have to spend as much with the fuel, and they get a better quality product," White said.
Ethanol production nationwide is expected to reach 4 billion gallons this year -- even higher than the record 3.4 billion gallons produced last year. Ethanol production was up 21 percent from the 2.8 billion gallons in 2003, according to the Renewable Fuels Assn.
"It is safe to say today that ethanol sales are increasing because of high gasoline prices, but it is definitely not always true," said Robert White, director of value-added programs for the Kansas Corn Growers Assn. "Most of the markets for ethanol are for environmental concerns and are there no matter what the price might be."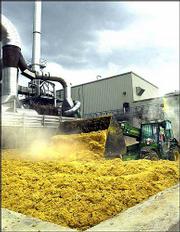 Kansas has six ethanol facilities. U.S. Energy Partners in Russell is the largest, producing 46 million gallons per year.
Ron Dunbar, plant manager for Energy Partners, said he has not yet seen higher gas prices increase the demand for ethanol fuel, noting that ethanol prices are only a couple of pennies per gallon cheaper in Russell. But he expects the demand to increase soon, and said the plant has always been able to sell all the ethanol it makes. "We are running it as fast as we possibly can," he said.
Ethanol production is centered in the Midwest, where Iowa surpassed Illinois last year as the nation's leading ethanol-producing state.
Kansas produced 122 million gallons of ethanol last year, and the state is expected to produce about 155 million gallons this year, Robert White said.
But Kansans have been slow to embrace ethanol blends.
"Kansas only consumed 5 million gallons of ethanol last year, something I am not proud of," he said. "Through promotion, education and legislation, I predict that these numbers will double this year."
Fueling his optimism is a bill passed by the state Legislature this year that repealed a law requiring fuels containing alcohol to be labeled.
Its proponents argued there was no legitimate reason to have a label on fuels blended with 10 percent ethanol or below, which is approved by all domestic and foreign automakers.
Removing the labeling requirement would increase the amount of ethanol sold in Kansas by giving retailers more flexibility in offering ethanol-blended fuel, Robert White said.
"We could see a very dramatic increases, not just percentage points but literally millions of gallons of new ethanol use in the state in a very short period of time," Jere White said.
Copyright 2018 The Associated Press. All rights reserved. This material may not be published, broadcast, rewritten or redistributed. We strive to uphold our values for every story published.