Lawrence residents with concerns about the city's response to crime will have a chance to speak out at a meeting next week.
A "citizen's forum" -- organized by a Centennial Neighborhood resident who said she's been a repeated victim of property crimes in the past year -- will be held at 7 p.m. Wednesday in the auditorium of the Lawrence Public Library, 707 Vt.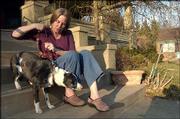 Laura Routh said she and her partner, Mike Hajdu, have been victims of theft and burglary five times in the past year at their home on East Drive. She said there have been 13 such incidents the past year on her block, located in an isolated residential area northwest of 23rd and Massachusetts streets.
The thefts have been from cars, porches and garages, and they haven't involved forced entry, Routh said. She said police recently increased patrols and have been good about communicating with the neighborhood, but she said it took too long to get the department's attention.
"I guess now, the larger issue for me is that I think this is actually happening all over town," she said. "I'd very much like to have a discussion with other citizens and with community leaders about how we can improve and get better responsiveness. ... We've deliberately left it unaffiliated and open-ended."
Sgt. Dan Ward, a Lawrence Police spokesman, said he didn't know whether someone from the department would attend the forum. He said he couldn't comment about the event ahead of time because he didn't know details of what would be discussed.
Police have said in the past that they have a growing number of calls for help each year and that, given their budget, it's not always possible to give the level of service citizens want.
A consultant hired by the city recently gave a series of recommendations for reducing crime and smoothing relations between police and the public. One was for the city to hire a "crime prevention officer" to work with neighborhood groups -- a step that would require a budget increase.
Routh said all five city commission candidates have committed to attend the event.
What: Centennial Neighborhood citizen's forumWhen: 7 p.m. WednesdayWhere: Lawrence Public Library auditorium, 707 Vt.
"What I'm interested in looking at is 'What are we not doing that we should be doing?' and 'What are we doing that we're not getting credit for doing?'" said Commissioner Sue Hack, who's running for re-election.
Copyright 2018 The Lawrence Journal-World. All rights reserved. This material may not be published, broadcast, rewritten or redistributed. We strive to uphold our values for every story published.