Roger Miller has been dispensing infection fighters, stabilizers, pain killers and tranquilizers -- along with assorted words of wisdom and moral support -- for nearly 50 years.
He's a pharmacist, born in Wathena, and the semi-retired proprietor of Miller Pharmacy in Bonner Springs.
He's a third-generation pharmacist but the only druggist in the family with a degree in pharmacy.
"My great-grandfather Jacob Miller immigrated to Kansas in 1879 from Germany," he said.
Jacob apprenticed for a few years under Miller's great-uncle August and later became a druggist.
"I guess at that time you just said, 'I'm a pharmacist,' and got on with it," Miller said.
That drug store, founded in 1863 on the Kansas-Missouri line west of St. Joseph, Mo., is the state's oldest continually operated pharmacy located in its original location.
Miller's father, Ken, earned a business degree from Kansas University. During the Depression business was bad, so his father switched careers.
"In the 1930s, if you had any sort of college degree you could become a pharmacist if you could pass the state pharmacy board exam," Miller said.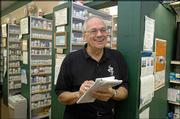 Miller's father attended a pharmacy prep school in St. Joseph, passed his boards and joined his father's drug store in Wathena.
In 1955, the graduating class of KU's pharmacy school was 26 men, including Miller, and two women, whose parents owned drug stores.
Miller took his diploma, his wife, Sheila, and the bowling ball his in-laws gave him as a graduation gift and headed for Milne's Drug Store in Pratt.
"Actually the bowling ball came in handy," Miller said, laughing as he recalled life in Pratt. There are "great people there who are not discouraged by time and distance."
Miller, his wife and friends would pile into their cars every Wednesday and drive 50 miles to bowl in Hutchinson.
A store of his own
After nine years in Pratt, Miller remembers reading, "you are what you think."
He was thinking of a drugstore of his own.
In 1964, Miller spotted one in Bonner Springs, closer to Wathena and family. He had never set foot inside the store. He bought it over the phone. Forty years later he's operating the same store.
"There was always the threat of the chains (large drugstores) in bigger cities, but most of us competed by making deliveries, carrying charge accounts and, of course, giving personal advice and consultation," Miller said.
Today, he said, the threat to small pharmacies is not the chain store but the insurance industry; 85 percent of Miller Pharmacy's customers use insurance cards.
"There are so many cards now that drug companies make deals with insurance companies and say, for example, 'if you use our cholesterol-lowering drug, we will rebate you so much,' so they say we're still going to give our customers a choice," he said.
The insurance companies promote the use of specific brands and when customers choose pharmacist suggested or generic drugs instead that creates added paperwork for the druggist. And time equals money.
During a 10-hour shift, a Miller Pharmacy druggist can fill 200 prescriptions, or one every two or three minutes.
Modern medicine
Times change.
"When I came to Bonner Springs there were three physicians in town," Miller said. "If they weren't in their office I could call them at home, and they would remember the drug they'd prescribed for their patients."
Today Miller Pharmacy druggists usually communicate with doctors through their fax machine.
Miller says he doesn't believe most physicians know the price of the drugs they prescribe.
Miller Pharmacy druggist Larry Courtney, a 1969 graduate from KU, joined the conversation. Holding a 2-ounce bottle of Lindane Shampoo, a treatment for body lice, he said, "A couple of years ago you could buy a pint of this for $20. The government decided that using too much of the shampoo could be harmful ... toxic."
So Lindane Shampoo went back to the testing labs. Today, the 2-ounce bottle costs $92.40, or $739.20 a pint.
So today, a couple of hundred miles and 40 years from Milne's Drug Store in Pratt, with added paperwork and computers, what have been the joys of life behind the drug counter?
"It's the people," Miller said.
"We really do try to help people, and we should -- after all, they are our customers," he said. "But many's the time after we take their money and thank them for their business, they thank us.... That's special."
Copyright 2018 The Lawrence Journal-World. All rights reserved. This material may not be published, broadcast, rewritten or redistributed. We strive to uphold our values for every story published.