Lawrence Catholics are praying for the ailing Pope John Paul II, local priests say, but -- unlike many observers -- they're not spending a lot of time contemplating his possible successor.
"It's not like the American presidency," said the Rev. Mick Mulvany, pastor of Corpus Christi Catholic Church. "We don't sit around and wonder who's going to be next."
Instead, Mulvany said, Catholics have faith the Holy Spirit will lead the church through this transitional time.
"The guidance needed to get us through his illness is there, the guidance to bring us a new papacy will be there," he said. "It's not something that people at the local level, I think, fret a lot about."
On Sunday, the pope for a second week in a row silently waved from his hospital window and made the sign of the cross to a cheering and weeping throng.
"We keep him in our prayers, and hope that whatever happens will be God's will," said Monsignor Vince Krische, pastor of St. Lawrence Catholic Campus Center.
The 84-year-old pontiff, leader of the world's 1 billion Catholics, has been hospitalized twice during the last month -- also the church's Lenten season. On Feb. 24 he underwent surgery to place a breathing tube in his throat.
The future
That illness has sparked speculation that John Paul's papacy is about to end, whether through his resignation or death, and discussion about the future of the Roman Catholic Church.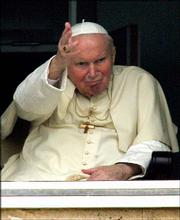 "I think people outside the church worry about it more than people inside the church," said Mulvany, whose congregation encompasses 1,100 households.
Popes can resign, but John Paul has shown no inclination to do so. The last to step down was Celestine V, who abdicated in 1294 after five months because of the turmoil his papacy was causing within the church. All his successors served until their deaths.
That could change. Belgian Cardinal Godfried Danneels, himself mentioned as a possible successor to John Paul, has said that future popes will abdicate.
"One cannot continue to bear the responsibility if you turn 90 or 100, no matter how well you're cared for. But the choice of the right moment must be the prerogative of the pope, and that's how it will work," he said in a 2003 magazine interview.
The choice of a pope can dramatically sway the direction of Catholicism. Pope John XXIII called the Second Vatican Council, which liberalized the church and moved it away from Latin-only masses. Pope John Paul II is credited with turning the Vatican back toward a conservative direction, with his staunch views on abortion and the role of women in the church.
A timeline of recent events in the health of Pope John Paul II:Feb. 1: Pope taken to Rome's Gemelli Polyclinic with breathing spasmsFeb. 10: He is released from the hospitalFeb. 24: John Paul rushed back to hospital, where he undergoes surgery to insert a breathing tube in his throat. He begins extensive speech and respiratory therapySunday: Pope gave a silent blessing from his hospital window for second week in a row
Hospitalization has complicated John Paul's ability to lead the church during the season preceding Easter, one of the church's holiest days. Church officials have left open the possibility that John Paul will remain hospitalized through the holiday.
Powerful example
An Easter week without the pope officiating would underscore how increasingly frail he has become. He is barely able to speak or walk, and each new affliction further limits his ability to minister and evangelize.
Mulvany and Krische said that after a quarter-century heading the church, the pope was now providing a powerful example of dignity in old age and illness.
"I think everybody sees him as giving a valuable witness right now, particularly to the elderly and those who are suffering from various illnesses," said Krische, whose center serves 2,000 Kansas University students and 125 local families. "It's a tremendous sign to them."
"He's done so many things that are great examples in how we live our lives," Mulvany said. "Do I think that's on his mind? Absolutely. I think that's part of his ministry right now."
Krische met the pope during a recent sabbatical.
"He did not talk," Krische said. "In fact, they say he's saving his voice for when he has to talk. But he's very alert to everything that's going on."
Mulvany said the Catholic Church had a long history of such transitions.
"This is a 2,000-year-old tradition of popes facing their waning years and the church moving on," Mulvany said. "I think people in the church understand that, that this is a normal part of church life."
-- J-W wire services contributed to this report.
Copyright 2018 The Lawrence Journal-World. All rights reserved. This material may not be published, broadcast, rewritten or redistributed. We strive to uphold our values for every story published.