John Thoennes can attest that homemade cookies are a lot better than standard issue military food.
And it's not just because they taste better. They also make a Marine feel a whole lot better, said Thoennes, a Marine Corps lance corporal and Eudora resident.
He gave thanks Thursday to residents of Lawrence's Pioneer Ridge Retirement Community who have started a care package program for area service men and women.
"There's a lot of days that you think 'What is our purpose? What are we doing here?'" said Thoennes, who returned last month from a tour of duty in Najaf, Iraq. "But then you get a package from a group like this, and you realize people do support you. It helps you go about doing what we do every day."
Pioneer Ridge residents have sent about 40 boxes to 10 different area soldiers since August.
"We hope that it reminds them that people back home are thinking about them," said resident Ken Weihe.
The boxes -- which include everything from toothpaste to candy -- also benefit the residents who put them together.
"It really does make us feel good, too," said Ronnie Lana, another resident. "It is such a small thing we can do. It doesn't measure up to what they are doing for us, but it makes us feel like we're doing something."
Tami Klinedinst, activities director at the retirement center, said each box included a letter from the residents inviting the soldiers to stop by the center for a reception when they returned home. This is the third reception the center has held since the program began.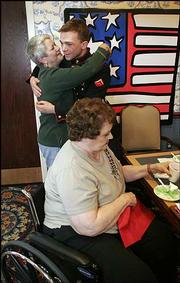 The soldiers also receive multiple packages, so they can distribute goodies to members of their units who don't normally receive mail from back home.
"We know there are some soldiers who don't receive anything at all," Klinedinst said.
She said the center was willing to add the names of other area residents who were serving overseas. But she warned that it may take the residents a little time to get to everyone on the list. She estimated the current list of names would keep residents busy packing boxes through May. In March alone, the center is expected to ship 20 boxes.
Thoennes urged other groups to pick up on the idea.
"It is such an easy thing to do on this end, but I tell you it means so much on our end," Thoennes said. "When you get just a little something that reminds you of home, you spend a lot of time taking it in."
Thoennes, 20, spent most of his time training members of the Iraqi National Guard. He said he thought the situation in Iraq was improving.
"Things are looking better," he said. "We made progress. In Najaf, the people were very receptive. They appreciated us being over there and were sad to see us go."
Copyright 2018 The Lawrence Journal-World. All rights reserved. This material may not be published, broadcast, rewritten or redistributed. We strive to uphold our values for every story published.