The numbers seem to suggest otherwise, but County Clerk Jamie Shew said he was expecting a relatively big turnout today at the polls.
"We always hope for an amazing turnout and that people are interested and involved and that they vote," Shew said on the eve of the primary election.
Shew said he expected 25 percent of Lawrence's 53,000 registered voters to cast ballots to narrow the list of City Commission candidates from nine to six. That would be a slight improvement from the 23 percent turnout in the 2003 primary.
But advance and mail-in ballots are coming in half as fast this year as during the hotly contested 2003 primary, which also featured a school board primary and the specter of a controversial school bond issue looming over the campaign.
During the 2003 primary, 429 voters cast advance ballots, and an additional 431 submitted their votes by mail. This year, by comparison, Shew's office had received 259 advance votes and 218 mail ballots by Monday morning. Advance voting at the Douglas County Courthouse, 1100 Mass., ended at noon Monday.
"We haven't opened all the mail, though, and, of course, we'll get some more in, so we expect that number to go up," said Deputy County Clerk Marni Penrod.
Speaking Monday during a training session for poll workers, Shew said some had called in sick with the flu. Backup workers are available to take up the slack, he said.
But "don't be surprised if someone doesn't show up to work," Shew said.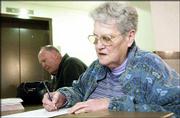 The polls open at 7 a.m. today across Lawrence and in four polling sites in and around Baldwin. About 1,500 voters in the Baldwin school district can cast their vote in a race among six people running for the District 4 seat on the school board.
Unofficial results should start rolling in between 8 p.m. and 8:30 p.m. today, Shew said. Sunflower Broadband Channel 6 will carry the returns tonight starting at 9 p.m., and ljworld.com will post updates throughout the evening.
People who received a mail ballot but did not return it should take it to the courthouse by 7 p.m. today or go to their regular polling site and vote by provisional ballot.
First-time voters should bring a form of identification. They can use utility bills, bank statements, paycheck stubs, passports, a current driver's license, or military or student IDs.
Copyright 2018 The Lawrence Journal-World. All rights reserved. This material may not be published, broadcast, rewritten or redistributed. We strive to uphold our values for every story published.