KENSINGTON — With tails wagging and ears twitching, the residents at Outback Kennel bark with excitement. Whose turn is it to hit the field and chase birds?
Kirby and Michelle Rust, who began the dog-training business four years ago, are doing what they love to do.
A couple at a time, the German shorthairs and English pointers are released into the adjoining fields for another training session.
"We do a lot of hunting, so we started raising bird dogs. We've always had hunting dogs. We started raising a couple and selling them while I was a fisheries and wildlife biologist and she was going to school," Kirby Rust said of his wife.
The dog-loving duo only works with German shorthairs and English pointers. The only difference between the dogs is the size of their tail.
"The German shorthairs have the dock tails and the English pointers have the long tails," Rust said.
Outback Kennel receives dogs from people in Fort Scott and elsewhere.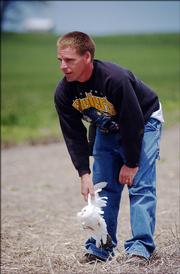 The Rusts try to choose dogs that will point a bird, come when called and halt at the "whoa" command.
"We don't want them to be shy. We want them to have good dispositions around people," Rust said.
Some of the dogs they sell are raised by the Rusts from puppies. When they are around 6 weeks old, the training begins.
"They'll start pointing about the same time they can start running," Rust said.
The puppies are introduced to this new animal called "bird" to get them familiar with the winged creature.
"You start with introducing the dog to what a bird is and getting them familiar with the scent," Michelle Rust said.
To introduce the dogs to birds, the Rusts flip a wing in front of them, which will trigger their pointing instincts - called getting them "birdy."
The Rusts take the dogs hunting to get them familiar with the situation. Pigeons caught from the local grain elevator and pen-raised quail from Palco also are used for training.
"There are some dogs who don't like to point at a pen-raised bird, and for some dogs that's all they'll point," Michelle Rust said. "It's interesting how some dogs work better if they're going to a hunting preserve, because that's where they would run into pen-raised birds. But other dogs work better out in the open."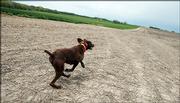 Some dogs, like Bruce, are easy to train. Bruce is an exceptional puppy with high energy and great pointing form.
"Others you don't think you'll ever get them trained," Kirby Rust said.
If a dog cannot be trained, it becomes a pet.
While not all dogs are trainable, he said, not all trained dogs are what he calls good bird dogs.
Kirby Rust said the number of good bird dogs in an average litter averaged about 50 percent, or 70 percent with a really good cross.
Outback Kennel produced an AKC champion called Magnum's King of Aces, which is professionally handled.
Business at Outback Kennel, capacity of 40 pens, goes in spurts, Michelle Rust said. Business picks up in June and begins to slow the first part of the following May.
They sell dogs from California to New York.
The Rusts are the kennel's only employees, aside from their two children. The couple's 3-year-old daughter, Iva, helps exercise the dogs. She will be a good example for her baby sister, Sydni.
Copyright 2018 The Lawrence Journal-World. All rights reserved. This material may not be published, broadcast, rewritten or redistributed. We strive to uphold our values for every story published.