Washington — Never mind fancy computers, satellites and Doppler radar. Most people have limited faith that meteorologists can accurately forecast the weather.
Four in 10 say they have made plans in the past month based on a weather forecast that turned out to be wrong, according to an AP-Ipsos poll. Still, most people closely follow the weather, mainly on television.
About a third say they think the weather forecasts in their area are accurate, but half say just "somewhat accurate," and the remainder say the forecasts are off the mark.
"When you're wrong, that's when they remember," said Veronica Johnson, a veteran meteorologist at WRC-TV in Washington. "My own little girl said, 'Mommy, I told you I didn't like thunderstorms, but you keep making it thunder."'
Some people remember only the bad forecasts.
"A lot of times, I think it's going to be the opposite of what they say," said Raymond Smart, semiretired and living near Portland, Maine. He checks several outlets for forecasts but often relies on a more basic approach.
"I wake up in the morning and look out the window," Smart said. "If the sun's shining, I think maybe it will be a good day. If it's raining, then maybe not."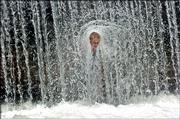 Despite the skepticism, most people say they check the weather forecasts.
Almost two-thirds said they had checked the weather forecast on the day they were surveyed. Television was, by far, the most popular source of weather information (used by seven in 10 who checked a forecast), followed by the Internet, newspapers and radio
All those sources are useful for Charles Topping, a metalsmith who lives 50 miles from Bakersfield, Calif., and has no weather forecasting station nearby. "My friends and I go to about three or four different sources," he said, "then we all take our best guess.
"Day-to-day, we do all right," he said. "People did without weather reports for thousands of years."
Weather forecasting has grown increasingly sophisticated - especially in providing early warnings and tracking severe storms, veteran forecasters say.
Winter Weather
Winter weather information
Predicting simply whether it will rain or not can be tougher.
"Even with all the new technology and modernization, we're still not going to be able to beat Mother Nature all of the time," said E.W. "Joe" Friday, director of the National Weather Service until 1998.
"A few times when I was director of the weather service, our forecasters would actually get threats when the forecast weather didn't occur and someone had planned an outdoor event like a wedding."
The AP-Ipsos poll of 1,001 adults was taken June 6-8 and has a margin of sampling error of plus or minus 3 percentage points.
Copyright 2018 The Associated Press. All rights reserved. This material may not be published, broadcast, rewritten or redistributed. We strive to uphold our values for every story published.