Lake Buena Vista, Fla. — A 4-year-old boy died after a spin on a Walt Disney World spaceship ride so intense that some riders have been taken to the hospital with chest pain.
Daudi Bamuwamye lost consciousness Monday aboard "Mission: Space," which spins riders in a giant centrifuge that subjects them to twice the normal force of gravity. The boy's mother carried him off the ride, and paramedics and a theme park worker tried to revive him, but he died at a hospital.
An autopsy Tuesday showed no trauma, so further tests will be conducted and a cause of death may not be known for several weeks, said Sheri Blanton, a spokeswoman for the Medical Examiner's Office in Orlando.
The sheriff's office said the boy met the minimum 44-inch height requirement for the ride.
The $100 million ride, one of Disney World's most popular, was closed after the death but reopened Tuesday after company engineers concluded that it was operating normally.
Disney officials said in a statement that they were "providing support to the family and are doing everything we can to help them during this difficult time." No changes were made to the ride or in who is permitted to ride it.
"We believe the ride is safe in its current configuration," Disney spokeswoman Jacquee Polak said.
More than 8.6 million visitors have gone on "Mission: Space" since 2003, Polak said.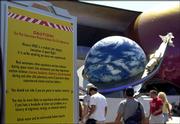 The ride recreates a rocket launch and a trip to Mars. A clock counts down before a simulated blastoff that includes smoke and flame and the sound of roaring rocket engines. The G-forces twist and distort riders' faces.
An audio recording and a video warn of the risks. Signs advise pregnant women not to go on the ride. Motion sickness bags are offered to riders. One warning sign posted last year read: "For safety you should be in good health, and free from high blood pressure, heart, back or neck problems, motion sickness or other conditions that can be aggravated by this adventure."
Since the attraction opened in 2003, seven people have been taken to the hospital for chest pains, fainting or nausea. That is the most hospital visits for a single ride since Florida's major theme parks agreed in 2001 to report any serious incidents to the state. The most recent case was last summer, when a 40-year-old woman was taken to a hospital after fainting.
"Two Gs is not that big a deal," said Houston-based theme park consultant Randy King, a former safety director at Six Flags, which operates 30 amusement parks.
The boy from Sellersville, Pa., was on the ride with his mother and a sister. During the ride, the mother noticed that Daudi's body was rigid and his legs were stretched straight out. She told detectives that she thought he was frightened, so she took his hand. When the ride was over, he had gone limp.
Copyright 2018 The Associated Press. All rights reserved. This material may not be published, broadcast, rewritten or redistributed. We strive to uphold our values for every story published.