It's a jungle out there.
At night, when Lawrence goes to sleep, the city comes alive with all manner of wildlife.
"I've had two or three bobcat reports," said Deke Hobbick, manager of the Clinton Wildlife Area. "Coyotes run up and down those drainages. I know on (Kansas University) campus there were always foxes, even when I was in school."
That's right: Foxes. The sly animals are drawn to town by feeding opportunities - pet food and pets - and to avoid other predators.
"They're definitely common," Hobbick said, "much more common than people think, especially in the city."
City and state officials say they haven't noticed an uptick in foxes around town; Lawrence Police say their animal control unit has received no such reports. But two Kansas Department of Wildlife and Parks reports in recent years seem to suggest the numbers may be on the rise statewide.
¢ One, the "Roadside Report," tallies how many times certain species of animals are seen by departmental employees during their travels. In 2004, the department reported 144 sightings of red foxes - 67 percent higher than the previous high of 86, reported in two separate years during the last decade.
Matt Peek, furbearing biologist for the Kansas Department of Wildlife and Parks, said the spike may merely mean that departmental employees had a good year spotting foxes.
"Few enough of them are seen that this (counting) technique isn't extremely reliable," Peek said.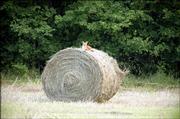 ¢ A second report, tracking fur harvesting in Kansas, showed that fur dealers purchased 331 red fox pelts in the state during the 2003-04 fur hunting season, a 43 percent increase over the five-year annual average of 231 pelts. The number of swift fox and grey fox pelts also increased significantly.
Peek was still skeptical, saying fur harvesting numbers are "probably more dependent on pelt price than on population levels"; most other species also have seen rises in harvest numbers.
But Peek said that Lawrencians shouldn't be surprised if they do see a fox - the critters are typically found around cities and suburbs, he said.
"Coyotes tend to kill them if they get out in the countryside," he said. "They're usually close to human dwellings and activities."
Hobbick said foxes also are attracted to town by the chance to scrounge for food: anything left in trash bins, pet food left outside and even cats.
"There's usually ample food," Hobbick said.
Generally, Hobbick said, foxes can and should be left alone.
"If it appears sick, disoriented or mangy ... those are the ones you need to call in," he said. Otherwise, "people just need to watch the cat food and the dog food they put out."
John Hackathorn, owner of Hacks Outfitters, a hunting supply store at 941 E. 23rd St., said he sees foxes as often as three times a month during his trips between Lecompton and Lawrence.
"They're just neat to watch," Hackathorn said. "They're more scared of you than you are of them. They're pretty much nocturnal."
Copyright 2018 The Lawrence Journal-World. All rights reserved. This material may not be published, broadcast, rewritten or redistributed. We strive to uphold our values for every story published.