With the summer camp season fast approaching, youths across the country will be stocking up on hiking shoes, bug spray and other necessities for adventures in the great outdoors. But thousands of others will be enjoying adventures of the indoor variety: creating video games, building robots and designing Web pages.
Computer camp, as it was known to an earlier generation, just isn't what it used to be. With the booming growth of video games, the Internet and digital media, technology-minded kids have an enormous variety of things to learn at technology camps, which often are taught on the campuses of major universities.
The School of Engineering at Kansas University, for example, offers Project Discovery, a one-week program designed to interest female high schoolers in engineering. The $300 program includes laboratory work, field trips to area companies and overnight accommodations in a KU residence hall.
While other programs tend to cost more than traditional camps - up to nearly $1,000 a week for some sleep-away courses - some parents see them as giving their kids a leg up in schools and eventually in a working world that seems to rely ever more heavily on technology. Camp administrators say enrollment is up from last year, with many kids signing up for multiple sessions and recruiting their friends.
Lily Gordon, an 11-year-old girl from Berkeley, Calif., will be attending technology camp on the University of California, Berkeley campus for the third straight year. In her first two summers she learned the basics of Web design and video game creation, so this year she's moving on to creating digital videos.
"Although I do a lot of tech stuff at home and at school, I don't really get to make a video or a game. It's something fun to do," she said.
Gordon's mom, Laura Mason, a 51-year-old professor of psychology at Berkeley, says Lily does other things during the summer, particularly sports like soccer and basketball, so there's balance of activities.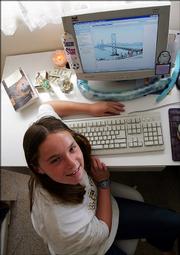 The Berkeley camp is run by iD Tech Camps, one of two major nationwide operators of technology camps. Based in Campbell, in California's Silicon Valley, the company is expecting to teach courses to 8,000 campers this year, up from 6,000 last year. Pete Ingram-Cauchi, CEO of the family-run company, which is now in its seventh year, says the programs cost $649 a week for day camps and $999 for residential camps. The programs are taught in 17 different states.
idTech's main competitor, Cybercamps, is run by the Seattle-based company Giant Campus Inc. since 1997. Weeklong programs cost $600 to $800 a week, and are offered at 37 locations across the country. David Kinard, the company's director of marketing, says enrollment this summer is expected to be about 4,100 kids, up from about 3,000 last year.
The camps keep costs in control by getting cheap or free use of the latest software from technology companies, who see the camps as a good way to build loyalty among the next wave of computer programmers.
"It's another outlet to help students become developers," says Daryll McDade, who manages a program at Microsoft Corp. that helps kids develop software. McDade says Microsoft likes the Cybercamps program because it's taught by energetic college students who are close in age to the teen-age campers.
Copyright 2018 The Associated Press. All rights reserved. This material may not be published, broadcast, rewritten or redistributed. We strive to uphold our values for every story published.