OZAWKIE — Like many little boys, Johnathon Jacob VanVleck loved fishing and swimming with his dad. The two also liked to look at boats and motorcycles.
"He was outgoing and spunky," said Pam Dunn, who works with Johnathon's stepmother, Elizabeth Rennenberg, at Accent Pet Grooming in Lawrence. "He just was a delightful little boy who always had a smile on his face."
Four-year-old Johnathon - known as J.J. - drowned Monday night while with members of his family at a boat ramp at Lakeside Village, a subdivision of Lake Perry, according to the Jefferson County Sheriff's Office. The area is a popular swimming and gathering place.
"He was with my oldest daughter - she's 17 - and with friends and they were all swimming," said J.J.'s father, Charles VanVleck. "We're not sure what happened. It's a real hard time for us all right now. He's such a good boy."
Ramon Gonzalez, a detective with the Jefferson County Sheriff's Office, said VanVleck's 17-year-old daughter, Samantha Seals, spotted J.J. floating in the water face down.
"I got out of the lake to get a towel and he was right there and I turned around and he was gone," Seals said. "It was just a matter of seconds."
Seals said she yelled for help; an unidentified man swimming about 20 feet away came over and helped pull J.J. out of the water, then began performing CPR. Members of a township fire department took over caring for J.J. when they arrived at the lake, Gonzalez said.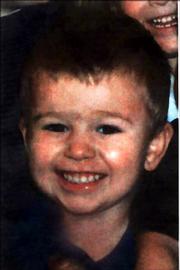 Gonzalez described the scene as chaotic, with a half-dozen emergency agencies - including Jefferson County Emergency Medical Service and the U.S. Army Corps of Engineers Lake Perry Command - responding to a 911 call.
The boy was transported to Stormont-Vail Regional Health Center in Topeka by Jefferson County Ambulance. He was declared dead at the hospital. Officials said the drowning appeared accidental, pending autopsy results.
Gonzalez said losing a child in this type of incident was always tough.
"But it's rougher in a smaller community where you basically know everyone," he said.
Several residents talked about J.J. and the drowning at Rumors Bar & Fish Market in Ozawkie. The establishment is a hang-out for locals - including Charles VanVleck and his family. People spoke of their concern for his family. J.J. has three siblings and three stepsiblings ranging in age from 4 to 17.
Charles VanVleck said his family was having a difficult time with J.J's death.
"We know that J.J. is at least with the Lord," he said. "He's too good of a boy not to be."
Friends of the family are trying to raise money to help offset funeral costs. Dunn said the family recently moved to a new home in Ozawkie.
She said an account would be set up at First State Bank in Perry.
"This is just devastating," Dunn said. "That family needs as much help and prayers as they can get."
Copyright 2018 The Lawrence Journal-World. All rights reserved. This material may not be published, broadcast, rewritten or redistributed. We strive to uphold our values for every story published.