Concord, N.H. — A lifetime's supply of ice cream for just $250? What a deal!
At least, that's what my wife and I thought a year ago when we decided to splurge for our fifth anniversary and buy ourselves a fancy Italian ice cream machine.
It's not so much that we are ice cream addicts. Rather, we just happen to like our ice cream to be very good, and we aren't afraid to make it ourselves if that's what it takes.
After several years of fighting with those awful hand crank machines, which include a bowl that must be frozen, we decided it was time to upgrade to a self-freezing model.
It is easy to spend a fortune on such machines. Some - and we're still talking about models intended for home use - run into the thousands of dollars. We don't like ice cream that much.
That first year the machine didn't get much of a workout. My wife was pregnant, and though the ice cream maker can whip up a quart in about an hour, it just wasn't fast enough to satisfy her urges.
The local ice cream shop became a daily stop, and the machine became an expensive novelty.
This year has been different, due mostly to the arrival of Bruce Weinstein and Mark Scarbrough's latest cookbook, "The Ultimate Frozen Dessert Cookbook," (William Morrow, 2005, $16.95).
I hadn't even planned to review the book, but one day when we had a surplus of eggs and milk, my wife brought out the machine and made one of the book's dozens of appealing gelato (Italian ice cream) recipes.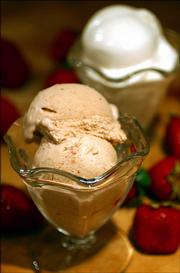 The next week we made another, and another the week after that, and so on. About a dozen recipes later I realized we'd cooked out of this book more than just about any other single cookbook this year.
So, OK, maybe it's worth a review. But first, a caveat: Weinstein and Scarbrough's book doesn't actually contain recipes for ice cream. The authors, who also have written a book on ice cream, focus instead on other frozen desserts, such as sherbet, granita, frozen pies and gelato.
The book is intuitively organized by type of dessert, and each chapter leads with a short explanation clarifying how, for example, gelato differs from ice cream - no egg whites, among other things.
My wife and I plan to spend the rest of the season eating our way through this book.
Strawberry gelato
(Start to finish 5 1/2 hours, 30 minutes active)
6 large fresh strawberries
5 large egg yolks, at room temperature
1/2 cup sugar
2 cups whole milk
1/2 cup heavy cream
10-ounce jar all-fruit strawberry spread
1/4 teaspoon salt
2 to 3 drops red food coloring (optional)
Place the strawberries in a blender or food processor and process to a fine, light puree, about 30 seconds. Scrape down the sides of the bowl as necessary.
If you prefer no seeds, run the puree through a fine mesh strainer or food mill. Set aside.
In a medium bowl, beat the egg yolks and sugar until thick and pale yellow, about 2 minutes, but not until the mixture makes satiny ribbons when dripped from the whisk or beaters. Set aside.
In a medium saucepan, heat the milk and cream over a medium flame until small bubbles form around the inside of the pan. Do not boil, but maintain this heat.
Ladle half the milk into the egg mixture and whisk until smooth. Whisk this mixture back into the remaining hot milk. Immediately reduce the heat to very low. If using an electric stove, use a new burner set to low.
Cook slowly, stirring constantly, until the mixture begins to get foamy, starts to smell eggy and can coat the back of a wooden spoon, about 7 minutes.
Strain the mixture through a fine mesh strainer into a clean bowl. Stir in all the fruit spread, reserved strawberry puree, salt and food coloring, if using. Refrigerate until well chilled, at least 4 hours or overnight.
Freeze in your ice cream machine according to the manufacturer's instructions. Serve at once, or transfer to a container, seal tightly and freeze for up to 1 month.
If frozen hard, soften at room temperature for 10 minutes before serving.
Makes about 1 quart.
Recipe from Bruce Weinstein and Mark Scarbrough's "The Ultimate Frozen Dessert Book," William Morrow, 2005, $16.95.)
Copyright 2018 The Associated Press. All rights reserved. This material may not be published, broadcast, rewritten or redistributed. We strive to uphold our values for every story published.