It's a trash truck George Jetson would be proud of.
Starting this fall, residents in nearby Olathe will be served by trash trucks with robotic arms that reach out, snatch, lift and dump special trash containers issued to every household in the city. All the work will be done by a single employee sitting in the cab of the truck, using a joystick more fitting of an arcade game than a sanitation vehicle.
"I think this is the wave of the future for this industry," said Kent Seyfried, Olathe's solid waste manager.
But Lawrence residents shouldn't expect the wave to wash up on their shores anytime soon. Bob Yoos, solid waste manager for Lawrence, said he thought the city's system of traditional trash trucks with a driver and two workers hanging off the back end will be around for years to come.
"What works well in one community doesn't necessarily work well in another community," Yoos said. "The technology they're going to is good, but it works well when you have very few alleys and when you have very little off-street parking. That's not Lawrence."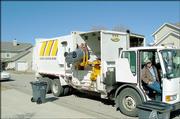 Seyfried, though, has 1.1 million reasons why he thinks it is a wave worth catching for the city of Olathe. That's how much he estimates the city will save in sanitation costs over a five-year period.
Easing costs
Although the cost of a trash truck will rise from about $150,000 currently to $170,000 with the arms, Olathe won't need to purchase as many new trash trucks in the future. That's because each truck will be able to make about 800 stops a day, up from about 500 currently.
But Seyfried said his employees likely will be the biggest winners from the new technology. The city's current system only uses one employee per truck, meaning that the driver is constantly getting in and out of the truck to empty trash.
"It is a real hard job," Seyfried said. "If you are picking up 12 to 15 tons of trash per day, you wear out. In the 20-plus years that we have been doing it this way, we've never had a driver retire. They've never lasted that long. It is a young man's sport."
During the last year, 11 out of 19 of the Olathe's trash haulers left for another job. Seyfried said he thought the new technology would cut down on that high turnover rate considerably. It also should reduce workers compensation rates because trash truck workers should be less likely to get injured.
Happy but hot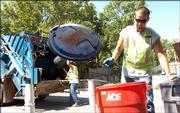 The life of a trash worker in Lawrence is a bit different than Olathe, Yoos said. He said turnover was relatively low and the department had many longtime employees.
"It really is a pretty good-paying job," Yoos said of the positions that start at about $9 an hour. "We have some people who even have their college degrees. Most of our guys really enjoy working outdoors."
The city operates about 18 trucks that handle residential trash collection, with the workday starting at 6 a.m. and ending around 2 p.m., Yoos said.
Yoos, though, is interested in making the life of his 95 employees a little easier without buying automated trucks. That could happen, he said, if more Lawrence residents leased a plastic trash cart from the department for $2 a month.
The trash carts are equipped with wheels and can be rolled to the truck rather than lifted by employees. Each trash truck also is equipped with a hydraulic platform that dumps the cart's trash into the truck.
"I can tell you that the ... carts are great," said Craig Pruett, who worked for about five years as a trash truck operator and now is a supervisor for the department. "It saves a lot of wear and tear on the loaders."
Currently the city rents about 5,000 of the carts, which still represents a minority of the 24,000 housing units served by City Hall.
Olathe residents are expected to begin receiving their specialized carts in early August. The city will equip their trucks with the fully automated equipment in phases. Seyfried said the city's trash collection should be fully automated in seven to 10 years.
Copyright 2018 The Lawrence Journal-World. All rights reserved. This material may not be published, broadcast, rewritten or redistributed. We strive to uphold our values for every story published.