The Kansas Department of Transportation must pay the owner of a northwest Lawrence shopping center an additional $317,000 for property rights acquired to make room for a road-widening project, a Douglas County jury ruled this month.
The money is intended to compensate Westgate LC for damages related to an expansion of Sixth Street, from four lanes to five lanes. The project is adjacent to the investment group's shopping center, which includes a Dillons grocery store and several smaller shops southeast of Sixth Street and Wakarusa Drive.
KDOT already had paid Westgate LC $260,000 for securing easements and limiting the potential for future access points along Sixth Street. The state acquired the property through eminent domain, a process by which governments can seize land for public purposes.
Westgate LC appealed the amount of payment in Douglas County District Court, seeking $1.27 million. The group argued that because an easement acquired by the state now stretched onto an existing parking lot, the site no longer complied with the city's zoning requirements - therefore jeopardizing potential plans for expanding Dillons or adding another building on a vacant pad site.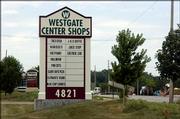 The jury, after four days of trial, ruled that the state owed Westgate LC a total of $577,412. The total included the $260,000 already paid by the state.
"This is clearly less than what the landowner wanted and more than we wanted to pay," said Eldon Shields, an attorney who represented KDOT in the case.
Both sides have until early September to decide whether to appeal the ruling.
Jane Eldredge, attorney for Westgage LC, did not return phone calls seeking comment.
Another appeal is still pending in court. The owners of property now occupied by Peoples Bank and Quick Shop - an area closer to the intersection of Sixth and Wakarusa - are appealing the $360,000 paid by the department for easements and property at the corner.
The owners are seeking "closer to $2 million," Shields said.
Copyright 2018 The Lawrence Journal-World. All rights reserved. This material may not be published, broadcast, rewritten or redistributed. We strive to uphold our values for every story published.