Lawrence residents braced for the most scorching weekend of 2005, as the National Weather Service on Friday issued a heat advisory until Sunday night.
Photo Gallery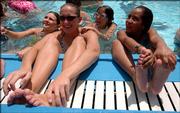 Beating the heat
6News forecasters said temperatures soaring near and above the century mark could last until Tuesday, when possible rain will accompany a high of 92 degrees.
Area officials urged residents to pay careful attention to pets, friends and neighbors.
"Seniors are especially prone to hypothermia because of external heat gain, increased heat production and impaired heat dissipation," said Barbara Schoof Conant, communications director for the Kansas Department on Aging.
Among tips to beat the heat:
¢ Drink two to four cups of fluids -but no caffeine or alcohol - an hour even if not thirsty, and eat lightly.
¢ Keep living quarters cool. Those with no access to air conditioning or fans should go to a senior center or other air-conditioned public location.
The Lawrence Outdoor Aquatic Center, 727 Ky., is open from 1 p.m. to 8:45 p.m. today and Sunday. The Indoor Aquatic Center, 4706 Overland Dr., will be open from 1 p.m. to 8:45 p.m. today, and from 1 p.m. to 5:45 p.m. Sunday.
The Community Building, 11 W. 11th St., will be open from 10 a.m. to 6 p.m. today and noon to 6 p.m. Sunday, while the East Lawrence Recreation Center at 1245 E. 15th St. will be open from 10 a.m. to 6 p.m. today and from 9 a.m. to 6 p.m. Sunday. The Holcom Park Recreation Center will be open from 10 a.m. to 6 p.m. today and from 1 p.m. to 6 p.m. Sunday.
¢ Keep physical activity to either early morning or later in the evening.
Heat exhaustion signs are cool, moist or flushed skin with heavy sweating, headaches, nausea, vomiting and exhaustion. To treat heat exhaustion, get the victim to a cool place and apply cool towels or sheets, and give cool water to drink every 15 minutes while watching carefully.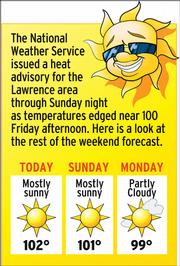 Heat stroke symptoms involve hot, red skin with changes in consciousness and rapid shallow breathing. The person should be moved to a cool place and immersed in cool water while emergency technicians are called. Keep them lying down and do not feed food or water if vomiting or refusing.
"The main thing is to really just inform people that they need to pay attention to their bodies," said Jill Urkoski, a Kansas University fitness instructor.
¢ Experts also say that pets should not be left alone in cars and when outside they should have a supply of cool water along with a shaded area.
¢ The heat will also take a toll on electrical systems that strain to keep homes and businesses cool.
Westar Energy officials suggest that residents keep thermostats set at 78 degrees or higher to save energy. Heat-generating devices should be moved away from thermostats, and wall coolers should fit snugly into window frames.
Cool lessons
¢ Stay in the shade or indoors. Don't exert yourself. Reserve physical activity for early morning or late evening. ¢ Drink fluids every few hours. Avoid caffeine and alcohol. ¢ Don't eat heavy, fatty foods.
Copyright 2018 The Lawrence Journal-World. All rights reserved. This material may not be published, broadcast, rewritten or redistributed. We strive to uphold our values for every story published.