The approximately 200 quilts in the Spencer Museum of Art rarely see the light of day.
Unfolding some of them for exhibition - or even scholarly examination - might turn threads to dust.
But thanks to a project underway at the museum, the quilts, along with 26,000 other items in the museum's collection, soon could be viewed with the click of a mouse.
"This belongs to the state of Kansas," said Sofia Galarza Liu, collection manager. "They need to have access to it."
Digitizing the Kansas University museum's collection has been in the plans for years. But a $149,000 grant, received last year from the Institute of Museum and Library Services, sped up that process.
In a fifth-floor cranny of the museum, Robert Hickerson, photographer and database project manager, and student helpers have spent much of the last nine months photographing pieces from the collection. He's chronicled between 6,000 and 7,000 items so far, including decorative arts, photographs, paintings, sculptures and prints.
Then, in the museum's basement, Liu and another set of student employees add basic information about each piece - including artist, medium, date, title and subject - into a computerized database.
Starting this fall, information from that database will be available through KU's digital library system, which already houses information on the university's library collections.
The goal is to have basic information about all 26,000 collection items available through the digital library by the end of 2006, when the IMLS grant expires.
Within two years, museum officials hope to have the collection on the Internet, for anyone to view.
Over time, they also plan to add more information about the items to the database, including ownership history, condition reports and dimensions. The entire digitizing process is expected to cost around $500,000.
"If we want a new audience for this museum, we're going to have to engage the audience with new technology," Hickerson said.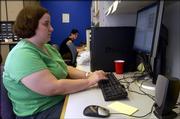 Hickerson noted that only 5 percent of the museum's collection is displayed at any time. And there are plenty of objects that have never made it on display, either because they are fragile or don't fit well into exhibitions.
He said the project would raise the Spencer's reputation internationally. He expected the number of requests to reprint materials held at the museum would increase.
"We can appear on the Internet along with the Met, the Getty and the Smithsonian," he said. "We can play on the same level they can."
And that, Liu said, could lead to a better museum in the future. For several years, KU officials have eyed a major expansion at the Spencer.
"I think in a lot of ways this is a hidden treasure," Liu said. "People don't really know what we have."
Copyright 2018 The Lawrence Journal-World. All rights reserved. This material may not be published, broadcast, rewritten or redistributed. We strive to uphold our values for every story published.