Leavenworth — Imagine being an unofficial stepmom to nearly 130 soldiers stationed in a war zone.
That's the role Barbara Schroeder and Chris Lann have been fulfilling by "adopting" soldiers in Iraq, sending them personal supply packages. The Leavenworth women mail out 40 to 50 packages a month to the soldiers.
"It just seems to keep growing daily," Schroeder said.
Schroeder and Lann call their home-based operation "Packages From the Heartland," and they have a detailed Web site, www.packagesfromtheheartland.com. Many of the soldiers are from Kansas, including some from the 317th Quartermaster battalion based in Lawrence.
The packages contain items such as note paper, pens, envelopes, shampoo, lip balm, sun screen, breakfast bars, cookies, canned chips, compact disks and numerous other items. Packages From the Heartland accepts donations from individuals, and businesses have contributed as well.
"These soldiers aren't always in a location where they can go to get these kinds of things," Schroeder said.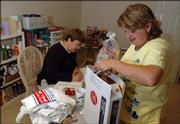 Schroeder started Packages from the Heartland in January. She didn't know that neighbors across the street, Lann and her husband, John Stanfield, had been mailing similar packages to soldiers for two years.
"My husband is a retired Army captain and he was in the (1991 Persian) Gulf War, so he knows the importance of the packages as a morale booster," Lann said.
Lt. Col. Bettina Moncus, from the 317th, is credited with inspiring the two mailing operations to merge.
"She said, 'You girls need to get your act together,'" Lann said. "'You are shipping across the street from each other.'"
Not only has there been a merger, but the women have picked up two more women as helpers, Brenda Brune and Patricia Heatherington. Brune has made a special quilt bearing the images of slanted stars, representing soldiers as "our stars," Lann said. The quilt will be raffled off as part of a fundraiser to help pay for costs of mailing packages. The boxes they use for shipping costs a flat $7.70 in postal fees, no matter what they weigh.
Packages from the Heartland
¢ Monetary donations to "Packages from the Heartland" can be sent to the organization in care of Commerce Bank, 2830 S. Fourth St., Leavenworth 66048. The money will be used to pay for mailing packages of personal items to individual soldiers.
¢ If you want to donate items for the packages, especially large numbers of items, call Barbara Schroeder at (913) 651-5339 or (913) 683-5206. For information about what items are needed, see the accompanying story or check a more detailed list at www.packagesfromtheheartland.com.
Schroeder has connected with the soldiers by noticing what area military units are being sent to Iraq. She also has gone to a Web site, anysoldier.com, to check to see who is in Iraq and contacts the units to see if there is anyone who wants to receive the packages.
"It's time consuming, but it's worth it when you see the letters and e-mails that have come back," Schroeder said.
In February, however, Schroeder learned that one of her soldiers had been killed by an improvised explosive device. She sent condolences to the soldier's wife, who in turn wrote a touching letter of thanks back to Schroeder.
"That was difficult," she said. "My son is in the Army stateside, and he comforted me, but he said I should have prepared myself for this."
The first soldier Schroeder adopted was with the 82nd Airborne Division.
"He is returning to Fort Bragg (N.C.) in December and I intend to be there to greet him," she said.
Copyright 2018 The Lawrence Journal-World. All rights reserved. This material may not be published, broadcast, rewritten or redistributed. We strive to uphold our values for every story published.