Tom Raney has no appetite for the bullet he's being asked to bite.
Engineers have proposed closing Kasold Drive between Bob Billings Parkway and 22nd Street for eight months during a reconstruction project next spring. That would finish the project faster than the 15 months needed if workers kept one lane of traffic open in each direction at all times during the project.
But Raney, who lives nearby, said he and his neighbors were being asked to bite the bullet too hard. If Kasold is completely blocked, he fears, a tidal wave of traffic will cut through his neighborhood rather than take a city-approved detour.
"What they're talking about is sheer lunacy," said Raney, 3425 Tam O'Shanter Drive. "It is going to be complete chaos to close a major arterial road and have to relocate 20,000 cars per day."
City commissioners are scheduled to decide how to proceed with the project at their 6:35 p.m. meeting on Tuesday.
Get it over with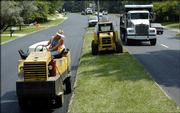 Commissioners may also hear from neighbors who want a total road closure during the project.
Mary Hope, 1917 Kasold Drive, said she thought it would be best to get the project done as quickly as possible.
"If they don't do it that way, the people who live along the road will have to look at it for a-year-and-a-half, and that seems a little much," Hope said.
City engineers said they held a meeting June 20 in which about 30 area residents informally agreed to total closure during construction. In addition to the time savings, the closure could reduce construction costs on the $3.7 million project by about 5 to 10 percent.
But since that meeting, other neighbors have organized to express their concerns, saying it is unrealistic to expect 20,000 vehicles per day to take the city-approved detours, which tentatively would be Wakarusa Drive to the west and Iowa Street to the east.
Several neighbors said they believed Kasold Drive would be the busiest street City Hall has ever entirely closed for a significant period of time, though city officials said they didn't have records to prove or disprove that assertion.
"What we're saying is we would like to have it take a little longer and cost a little more to avoid the chaos and gridlock," Raney said.
In a memo to city commissioners, Public Works Director Chuck Soules said temporary speed humps and barricades could be used to stop cut-through traffic in the neighborhoods adjacent to Kasold Drive.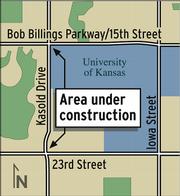 Businesses balk
Businesses on both ends of the corridor have said they're concerned that completely closing the street would hurt sales.
"If you make it hard enough on motorists, they're going to get worn out and go someplace else," said Mark Smith, an owner of Orchards Drug, at Bob Billings Parkway and Kasold Drive. "We work hard to get our clientele already, and we worry about losing them in eight months while the road is closed."
Commissioners in October approved the construction project, but did not discuss details of road closures and detours.
During construction, the entire stretch of the four-lane road will receive new pavement and a new grass median. The project also will include a new eight-foot sidewalk/bike path on the west side of the street, which also has caused some concern among neighbors.
Several neighbors said the bike path, along with a large retaining wall, would eliminate too much green space and landscaping that have served as natural noise buffers.
Soules said the city had reviewed other locations for the sidewalk but determined the west side of the road was the best location. He also said the bed of the road was being lowered in many places, which should cut down on noise that travels to nearby homes.
Copyright 2018 The Lawrence Journal-World. All rights reserved. This material may not be published, broadcast, rewritten or redistributed. We strive to uphold our values for every story published.