Overland Park — With shareholder blessing in hand, Sprint Corp. and Nextel Communications Inc. are pressing forward to have their unified company - and its newly branded products - in stores in time for the holidays.
The two companies still must receive regulatory approval from the Federal Communications Commission and the Justice Department, as well as the 18 states in which Sprint's local phone division operates.
But Sprint chairman and CEO Gary Forsee said Wednesday the discussions he and Nextel chief executive Tim Donahue have had recently with regulators have been positive.
"You get the feeling you're in the clubhouse turn, the final stages," said Forsee, who will become chief executive of the unified Sprint Nextel Corp.
Shareholders of both companies on Wednesday overwhelmingly supported Sprint's $35 billion acquisition of Nextel, taking the next step in creating the nation's No. 3 wireless company with more than 40 million wireless customers and $40 billion in annual revenue.
Nextel, which met in Reston, Va., said the deal was approved by 99.8 percent of the shares that voted. At least 96 percent of Sprint shares voting also approved it. Sprint met in Overland Park.
The deal is expected to be closed in the third quarter, in time for the holidays when 35 percent of wireless sales are made, Forsee said.
The companies expect $12 billion is savings. While a portion of that will come from eliminating overlapping operations, neither company on Wednesday released any numbers.
The new company will have its corporate headquarters in Reston. An operations headquarters will remain at Sprint's 200-acre campus in Overland Park.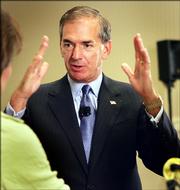 Next year, the unified company plans to spin off Sprint's local telephone service as its own business. Once separate, the as-yet unnamed unit will be the fifth-largest local telecom in the country with 7.6 million access lines in 18 states.
Members of Communications Workers of America, one of two unions that represent local service workers, gathered outside the Sprint shareholders meeting, saying that while they don't oppose the merger, they are worried about benefits and the long-term future of traditional wireline services.
"We're concerned that they'll be saddled with too much debt and not enough revenue stream to be successful," said spokesman Bob Richhart. He said the CWA represents about 3,000 of the 16,000 local service employees.
Forsee disagreed, saying the local service is still strong and still will have access to wireless and long distance services that customers want.
"We're in an alignment to spin off a healthy company," he said.
Last month, the two companies unveiled Sprint Nextel's new look, which will make Sprint the lead brand but use Nextel's signature yellow-and-black color scheme. Nextel will remain as a brand name for some products.
Copyright 2018 The Associated Press. All rights reserved. This material may not be published, broadcast, rewritten or redistributed. We strive to uphold our values for every story published.