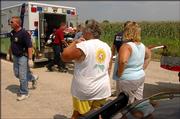 A rural Lawrence man was rescued Wednesday afternoon after he was injured in an accident while riding an all-terrain vehicle.
Larry Schaake, owner of Schaake's Pumpkin Patch, 1791 North 1500 Road, was taken first to Lawrence Memorial Hospital and later transferred to University of Kansas Hospital in Kansas City, Kan.
A nursing supervisor at LMH said he was in fair condition at the time he was being transferred. Schaake had been spraying for Johnson grass on his farm when the ATV overturned, family members told the Journal-World.
The Douglas County Sheriff's Office didn't release the victim's name, but a spokesman said the four-wheel Quad Runner overturned in a ravine near the Kansas River, causing a possible broken ankle. It wasn't clear how long after the accident he was found. Sheriff's officers and Lawrence-Douglas County Fire & Medical responded after being called to the farm.
Copyright 2018 The Lawrence Journal-World. All rights reserved. This material may not be published, broadcast, rewritten or redistributed. We strive to uphold our values for every story published.