Imagine going to the local pharmacy, presenting a prescription for birth control or morning-after pills (called Plan B) and having the pharmacist refuse to dispense the medication, saying it would violate his or her conscience.
This situation is increasingly occurring to women at drugstores around the nation, as some pharmacists decline to fill prescriptions for drugs whose effects go against their own personal, moral or religious beliefs on reproductive issues.
As a result, some states have passed "conscience clauses" that protect a pharmacist's right to refuse to dispense these prescriptions, while other states are mulling legislation that would compel them to do so.
Kansas pharmacy experts say they're not aware of any conflicts between patients and pharmacists that have yet arisen in the state, but add there's no reason to believe this will remain the case indefinitely.
"I suspect we're probably going to see more of these challenges. It's going to vary from state to state, but it's only a matter of time before it will happen (here)," said Ken Audus, dean of Kansas University's School of Pharmacy.
Barbara Wood, a clinical assistant professor in the pharmacy practice department of KU's School of Pharmacy, has examined this issue with students in her pharmacy law and ethics class.
"The bottom line that I try to impress on them is that the allegiance that they owe - the covenant that they take on - is to their patient. The health and the well being of their patient comes first," she said.
"And consequently, they have to have some good justification of behaving like they do, regardless of what stand they take."
No laws in place
There hasn't been a major debate on the conscience clause issue in Kansas since the issue hit the national news earlier this year, according to John Kiefhaber, executive director of the Kansas Pharmacists Assn., based in Topeka.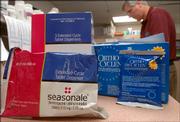 But the association's members have discussed the issue, and in 2004 the American Pharmacists Assn., based in Washington, D.C., promoted a policy of "step away, and transfer" for the field.
"In essence, Kansas pharmacists believe that their first responsibility is to the health of the patient, and that if they cannot in good conscience dispense a particular prescription drug, they should step away from the order and be sure that the prescription is transferred to another pharmacist," Kiefhaber said.
"In practice, pharmacists have to follow the policy of their employer as well, and it is recommended that, if they are not the owner of the pharmacy, that they work out the transfer arrangement in advance with that employer."
There is currently no statute in Kansas that would legally protect pharmacists who refuse to fill certain prescriptions due to personal beliefs, nor is there any law on the books that would compel them to do so, said Mike Farmer, executive director of the Merriam-based Kansas Catholic Conference.
But some Kansas health care professionals, such as doctors and nurses, can legally refuse to directly participate in an abortion without fear of punishment, he added.
The conference supports a pharmacist's right of refusal to dispense certain drugs, and would support the passage of a conscience clause in Kansas.
"We would be with the pharmacists if they had a conscientious objection to filling a prescription that they believe could cause harm to either the patient or the patient's child," Farmer said.
Complex issue
Others take exception to the idea of pharmacists being able to choose which medications to dispense, according to their own beliefs.
"I think it's a fundamental violation of medical ethics and of the rights of women. It's an interference in the relationship between a woman and her doctor," said Peter Brownlie, president and CEO of Overland Park-based Planned Parenthood of Kansas and Mid-Missouri.
"Our position is that if pharmacists cannot overcome their personal biases to provide patient care, they should find another line of work."
He said he expects to see increasing efforts by pro-life advocates to pass legislation that would give legal protection to pharmacists who refuse to fill prescriptions for birth control or morning-after pills.
"It's a complex issue. I have personal feelings about it, and they've even changed over time," said Gene Hotchkiss, associate dean of KU's School of Pharmacy.
"A pharmacist should be altruistic and put the needs of others in front of his own. And we try to inculcate to our students that they be nonjudgmental when they practice."
He said the school advises its graduates that if they have issues of conscience that might preclude them from dispensing a medication, they should advise any employers about this upfront.
Follow own moral compass
Round Corner Drug Co., 801 Mass., stocks birth control and morning-after pills, and owner Tom Wilcox said he had no problem filling prescriptions for them.
He said he believes the majority of pharmacists probably feel the same way he does - that one's personal beliefs shouldn't be injected into pharmacy practice.
At the same time, Wilcox said he doesn't believe that one or two pharmacists in Lawrence potentially refusing to fill birth control prescriptions would pose a major problem.
"There are 20 or so pharmacies in town, if you add it all up. I just can't imagine people not being able to get these things filled (at one of them)."
He offered a piece of advice to KU pharmacy students entering his field.
"I would think their obligation is to take care of the patient, but everyone has to follow their own moral compass and be willing to take the consequences."
Copyright 2017 The Lawrence Journal-World. All rights reserved. This material may not be published, broadcast, rewritten or redistributed. We strive to uphold our values for every story published.