Driving and yakking on a cell phone increase fourfold your chances of ending the trip in an emergency room, according to a study billed as the first to link phone use with actual crashes that caused injuries.
Conducted by the Insurance Institute for Highway Safety with today's release date, the study looked at 500 drivers in Perth, Australia, who had been on the phone within 10 minutes of a crash.
U.S. carriers would not provide information showing when customers were on a phone.
The crashes occurred from April 2002 to July 2004. Researchers found that the ban on handheld phones is widely ignored in Perth and that a third of the drivers in the crashes said they had used a handheld model.
The study also found that the increased risk of accidents was the same regardless of the type of telephone used.
"The results suggest that banning handheld phone use won't necessarily enhance safety if drivers simply switch to hands-free phones," the institute said.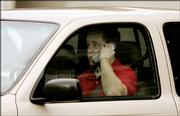 The institute said that a similar study in Canada in 1997 reached similar conclusions but that most studies on the link between car accidents and phone use have been done in laboratory conditions.
A study released in 2002 by Harvard University's Center for Risk Analysis, for example, used mathematical models to estimate that cell phone use by drivers causes 2,600 traffic deaths annually. Another study, released in 2003 by the University of Utah in Park City and based on test subjects on a driving simulator, concluded that talking on a cell phone is more dangerous than driving with a blood-alcohol level at the legally intoxicated threshold.
The National Transportation Safety Board recommended in 2003 that driver education courses include warnings about distracted driving and that novice drivers should be banned from using phones of any kind behind the wheel. That followed its investigation of a crash near Washington, D.C., in 2002 that killed five people and was blamed in part on one driver's handheld cell phone use.
John Walls, a spokesman for the Cellular Communications & Internet Association in Washington, a trade group, said phones are only one distraction and focusing on them doesn't address the overall problem.
Copyright 2018 The Lawrence Journal-World. All rights reserved. This material may not be published, broadcast, rewritten or redistributed. We strive to uphold our values for every story published.