For 34 years, Phil and Pat McPhail have cared for some of the state's most troubled, most abused children.
It's not been easy.
They've been hit, kicked and yelled at. And they've logged more than a few sleepless nights.
But there's nothing they'd rather do. It's who they are.
"I didn't get to grow up in what you'd call the best of homes," said Pat McPhail, who's originally from Larned. "My mother died when I was 14, leaving me to raise my two younger siblings, who were 6 and 7 at the time. My father couldn't handle it; he pretty much abandoned us.
"Ever since then, I've never wanted another kid to go without a mother," she said. "That thought has never left me."
Today, Pat McPhail and her husband are both 65. They quietly retired last month from foster parenting.
"My friends tell me I need to get a dictionary and look up what it means to be retired," Pat McPhail said, laughing. "We still have four kids with us and we've adopted another one."
The McPhails also have two grown children of their own, Brad and Stephanie, both of whom are married and live in Lawrence.
'Phenomenal' job
Among Lawrence-area social workers, the McPhails are legends.
"What they've done is phenomenal," said Judy Culley, executive director at The Shelter, which provides a variety of assistance for children in state custody. "And they done it all of their adult lives."
The McPhails moved from western Kansas to Topeka in 1971, becoming live-in house parents for a group home started by The Villages, then a cutting-edge residential program co-founded by renowned psychiatrist Dr. Karl Menninger and criminologist E. Kent Hayes, of Lawrence.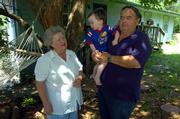 They moved to Lawrence in 1976, taking over The Villages' group home here.
The couple have lost count of how many children have passed through their care.
"It's in the hundreds - probably 400 or so," said Phil McPhail. "When you got 10 or 12 at a time it adds up pretty fast."
The McPhails specialized in taking children who'd suffered the most abuse and were considered the hardest to handle.
"I don't know what their secret is," said Douglas County Juvenile Court Judge Jean Shepherd.
"They must love it, they must be real well-grounded," Shepherd said. "When kids have episodes, (the McPhails) seem to work through it rather than reacting - for a lot of our (foster) kids, this is their way of testing foster parents. They want to see if they're going to stick with them."
Never give up
Clearly, the McPhails stuck.
Linda, 17, has been in foster care since she was 2 years old. She's been in and out of seven foster homes and more than a dozen group homes
Still in foster care, she's been with the McPhails for a year.
"The first thing Pat ever said to me was 'We don't give up on people,'" Linda said. "My other placements had given up on me. But Pat and Phil were different; they weren't like the others."
Lauren, 17, also has been with the McPhails for about a year.
"The thing that's different here is the rules are the same for everybody," she said. "They don't treat you like you're a foster kid; they treat you like you're one of their kids."
"Brad and Stephanie would laugh if they heard that," said Pat McPhail, referring to Lauren's assessment. "They make jokes all the time about how they were raised like foster kids - because they were; the rules were the same for both."
The garage sale solution
One McPhail secret: garage sales.
"We never had trouble with kids tearing up their rooms because we'd take them to garage sales and buy them anything they want," said Pat McPhail. "If it's their stuff, they won't tear it up. It's really pretty simple."
Over the years, the McPhails have figured out a lot of things.
"They knew what to do," said Sheri Williams a veteran child protection services worker at the Department of Social and Rehabilitation Service office in Lawrence.
"I used to go over there after school and I'd be amazed at how organized they were - I have two kids of my own, I know how hard it is," Williams said. "But what impressed me the most was that I never felt like I was in a group home. It always felt like a real home with very loving parents."
Measure of wealth
For the first time in 34 years, the McPhails are living in a house, not a group home.
"We're leasing," Phil McPhail said. "We can't afford to buy."
Though they saved for their retirement, the McPhails are essentially living on their Social Security.
They are not rich, but they are, indeed, wealthy.
"Oh, I think we're some of the richest people in the world," said Pat McPhail. "Just the other day, one of our (former foster) kids came by and introduced us to her husband.
"And while we were talking she joked about how she couldn't get him to fold towels like we taught her to," she said, laughing. "And then she turned to me and said 'How'd you get me to that?' because she knew she was a handful and, years later, she knew we cared enough to stick with her.
"It's moments like that you can't buy."
Copyright 2018 The Lawrence Journal-World. All rights reserved. This material may not be published, broadcast, rewritten or redistributed. We strive to uphold our values for every story published.