Milwaukee — Renewing his attack on conservatives and the Bush administration Sunday, NAACP chairman Julian Bond accused national leaders of rolling back past civil rights gains, crippling efforts to battle racism and undermining democracy.
"The President likes to talk to the talk, but he doesn't walk the walk," Bond told members at the annual convention of the National Association for the Advancement of Colored People.
President Bush has turned down five invitations to attend NAACP gatherings, including this year's, and Bond on Sunday invited Bush to the next one, in Washington.
"Mr. President, we're extending the invitation a year in advance," Bond said. "We want to see you and we want you to see us - we want to know you think you're our president, too."
Bond also addressed an investigation by the Internal Revenue Service, which has said NAACP officials' political statements are partisan comments that violate the group's nonprofit status.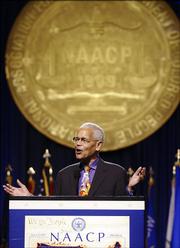 "They may try to intimidate us into silence," Bond said, "but we will not be frightened away from the truth."
The Baltimore-based nonprofit, which has struggled in recent years to raise money, this year faced allegations that former president Kweisi Mfume granted workplace favors to an NAACP employee with whom he had a relationship.
The 96th annual gathering of the National Association for the Advancement of Colored People comes as the Baltimore-based nonprofit has been struggling to raise money.
Its new president, retired Verizon executive Bruce S. Gordon, has pledged to improve efficiency in the organization and raise an endowment, as well as to stress economic equality.
During weekend panel discussions and meetings, convention delegates discussed laws that bar felons from voting, racial patterns in death penalty sentencing, reparations for slavery and the federal funding of religious groups, among other issues.
NAACP officials also announced Sunday that Mexican President Vicente Fox, who has been criticized for telling a trade group that Mexicans in the U.S. are doing work that "not even blacks want to do," had declined two invitations.
Fox cited scheduling conflicts in declining the invitation, NAACP officials said.
Copyright 2018 The Associated Press. All rights reserved. This material may not be published, broadcast, rewritten or redistributed. We strive to uphold our values for every story published.