Juliana Hill, 6, is too busy with animals, games, singing, arts and crafts to realize she's learning a lot at summer camp this week.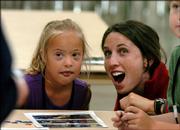 "I just think it's fun," she said.
Juliana is one of 67 children ages 4 to 12 involved in the Sertoma-Schiefelbusch Communication Camp this week at the Douglas County 4-H Fairgrounds.
The camp, in its fifth year, aims to help children with communication skills. About a fourth of the students have no communication issues, but the others have challenges including cleft palate, hearing loss or the inability to speak.
The camp, which started Tuesday and runs through July 15, is run by the Schiefelbusch Speech-Language-Hearing Clinic at Kansas University. It is funded by the Sertoma Club of Lawrence, which holds an annual barbecue to raise money.
Campers are scheduled to take a field trip today to Deanna Rose Park in Overland Park. Other activities have included square dancing, watching a frisbee-catching dog, blowing bubbles and learning about fishing.
The children communicate using pictures, speech and sign language.
"The goal is for kids to have fun communicating with each other," said Jane Wegner, the clinic's director. "The No. 1 goal is to make sure they have fun."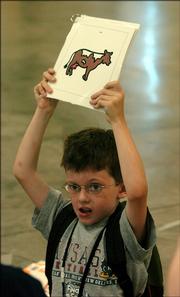 Copyright 2018 The Lawrence Journal-World. All rights reserved. This material may not be published, broadcast, rewritten or redistributed. We strive to uphold our values for every story published.