Montpelier, Vt. — Lois Farnham and Holly Puterbaugh were among the first same-sex couples in the nation to be legally joined as spouses when Vermont's civil union law went into effect.
They're happy to be celebrating their fifth anniversary - but they still wish they could get married.
As gay and lesbian couples in Massachusetts have won full marriage rights, and several communities have recognized same-sex marriages, even fleetingly, the civil union certificate that Farnham and Puterbaugh got on July 1, 2000, seems a little like second best.
"I think people have accepted civil unions, without any question," Farnham said. "Don't get me wrong, it's still a compromise. I would still like full marriage benefits, but it's better than what we had."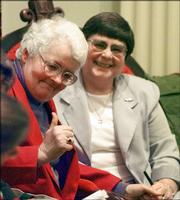 In the first five years of Vermont's law, 7,549 couples have joined in civil unions, all but 1,137 of them from out of state. Roughly two-thirds have been women. There have been 78 dissolutions.
Activists who observed Friday's fifth anniversary of the Vermont law going into effect say it stops short of full equality for gay and lesbian couples. They plan to renew their push for full marriage - something newly granted in Spain and expected soon in Canada.
Opponents have remained largely silent since 2000, when Vermont's Supreme Court ruled that gay and lesbian couples were being unconstitutionally denied marriage rights. Activists sought full marriage rights then, but lawmakers following the lead of Gov. Howard Dean decided the public was not ready for such a big step.
The Rev. Craig Bensen, who helped lead an opposition effort five years ago, said opponents would organize against any initiative for marriage.
"The legislative psychology, based on what I've been observing, is that neither side, and certainly not the middle, sees any great desire on anybody's part to reopen the debate," Bensen said. "I think it would get very hot again."
Copyright 2018 The Associated Press. All rights reserved. This material may not be published, broadcast, rewritten or redistributed. We strive to uphold our values for every story published.