Jenna Brantley's shots wouldn't fall for three quarters, but the sophomore rallied Free State High from a 10-point, fourth-quarter deficit Saturday in a 61-60 girls basketball victory over Blue Valley in the third-place game of the Firebird Winter Classic.
"Jenna was real big," said senior forward Jamie Stanclift, who led the Firebirds with 22 points and seven rebounds. "She's starting to really value her time on the floor. She's really trying to do the right things to help us out. She misses some shots, but she keeps shooting with confidence and gets them to fall."
Free State's third-place finish was its highest in the tournament's five-year history. Lawrence High also finished with a victory, dropping Topeka Hayden, 35-25, in the fifth-place game.
Brantley missed four of her first five shots Saturday, and the Firebirds (5-7) trailed 51-41 entering the fourth quarter. Brantley then sank a three-pointer with 7:02 remaining to start a 13-2 FSHS run. Lauren Kimball drained a three-pointer to pull Free State within 53-51 with 4:20 remaining, and Brantley completed a three-point play that put FSHS on top 25 seconds later.
"I just really worked hard and looked for open shots," said Brantley, who had nine of her 13 points and four of her five rebounds in the final eight minutes. "Everybody played with a lot of intensity, and that helped me get open."
Brantley made three of four foul shots in the final 1:09, and Stanclift's basket with 21 seconds left gave Free State a 61-60 lead.
Blue Valley's Lauren Heist missed a three-pointer with 3.7 seconds left, but the ball went out of bounds off FSHS. The Tigers (5-8) had one last chance, but Katie Joens' open jumper rimmed off, and Free State's Kelsey Harrison grabbed the rebound.
"We showed a lot of composure and desire today," Free State coach Bryan Duncan said. "It would have been easy to fold our tents when we had foul trouble and they made a little run. We showed some maturity."
Three Free State players finished with four fouls, and the Tigers took advantage by making 22 of 29 foul shots. Joens, Heist, Melissa Stevens and Kelsey Slack had 10 points each for Blue Valley.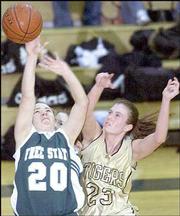 Free State bounced back from a 52-36 pounding Friday against Manhattan.
"It was important for us to come back and show people that the third-place game was important to us and that we have a lot of heart," Stanclift said.
Lawrence High 35, Topeka Hayden 25
Injury-riddled Topeka Hayden (6-5) had more turnovers (15) than shot attempts (13) in the first half, but the Wildcats came back from a 15-point deficit with an 11-0 run in the third quarter and twice cut the deficit to two points in the fourth quarter.
"We rebounded when we needed to, we got defensive stops when we needed to, and we actually got a couple of buckets when we needed to," LHS coach Kristin Mallory said.
None was any bigger for LHS than Lacey Elmore's basket with 7:01 remaining. That shot ended a drought of 7:13 without a field goal. The Lions (7-4) then rebuilt a double-digit lead by sinking eight of 10 free-throw attempts in the final 3:51.
Lawrence High shot just 12-of-43 from the field, but made up for its offensive struggles by limiting Hayden to 9-of-36 shooting and forced 22 turnovers.
"We know how their offense runs, so we tried to jump into the passing lanes and cut them off," said LHS center Megan Klingler, who led the Lions with 10 points, eight rebounds and four blocked shots.
Elmore added eight points for LHS, and Kayla Nolte added six points and eight rebounds.
Shawnee Heights 40, Manhattan 39
Sarah Tetuan's three-pointer with 10 seconds left gave Shawnee Heights its first lead of the second half, and the T-Birds (12-0) defeated Manhattan (9-4) in the championship game. Julia Hale led Heights -- which won the tournament for the second straight year -- with 14 points.
In Saturday's other game, Olathe North defeated Wichita North, 48-43, for seventh place.
Copyright 2017 The Lawrence Journal-World. All rights reserved. This material may not be published, broadcast, rewritten or redistributed. We strive to uphold our values for every story published.