Taylor Wooten wants to be a U.S. ambassador to a Spanish-speaking country.
A few years ago, she didn't even know how to sign up for the ACT Assessment exam or apply to colleges. No one in her family had ever attended college.
Wooten, a graduate of Lawrence High School who now is a freshman at Kansas University, credits the Upward Bound program for putting her on the right track for higher education.
"Not having any college students in my family, I didn't know how I was supposed to go about things," she said. "All I knew was what I wanted to do, and that was go to college."
Now, Upward Bound -- which helps 455,000 first-generation college students and veterans each year attend college -- may be on the budgetary chopping block. The Chronicle of Higher Education reported this week that the Bush administration is looking to cut Upward Bound and Talent Search, which are part of the federal TRIO programs for disadvantaged students.
The administration would then use the $460 million to finance portions of the No Child Left Behind law.
The U.S. Department of Education officials have declined to discuss the budget proposal until it is officially unveiled next month.
Campus fixture
Upward Bound, which has been on the KU campus since 1983, identifies potential low-income, first-generation college students and provides support for them during their high school years, including test preparation, tutoring, college application assistance and financial aid help. That support includes six-week programs on the KU campus, to acclimate students to campus life and college expectations.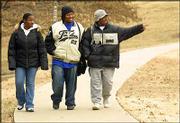 The program served 79 students last year.
KU also administers:
An Upward Bound Math and Science program that aims to place underrepresented students in those fields, which served about 60 students last year;
Veterans Upward Bound, which provided advising, refresher courses and other assistance to those who have served in the Armed Forces to about 120 students last year;
And Educational Talent Search, which provides similar but less-intensive assistance to students as Upward Bound. It serves about 1,100 students a year.




Haskell Indian Nations University also administers an Upward Bound program. Haskell officials declined to comment for this story.
Prepared to lobby
KU officials who administer the programs -- which total more than $1.2 million in grants each year -- say they're hopeful the TRIO money will be included in the president's budget proposal. But they're already planning to lobby the state's congressional delegation in case it's not.
"For many students, the program provides the catapult toward opportunities they just flat wouldn't have otherwise," said Jerry Bailey, an education professor who wrote KU's original Upward Bound grant proposal in the early 1980s. "I'm stunned we'd ever, as a public policy decision, even think about doing this."
Added Ngondi Kamatuka, the program's current director: "We know historically when we've not had these programs, that students are not inclined to go to the counselor's office. They still will fall through the cracks."
Fred Rodriguez, KU's interim education dean, said the data he's seen supports the program's 40-year history. At KU, only two of the 264 seniors served didn't graduate from high school, and 89 percent of them proceeded to postsecondary education.
"Clearly the track record at KU is impressive, whether you look at graduation rates or college entrance," Rodriguez said. "It's incredible. It's disturbing to me that these programs are being threatened."
It's also disturbing to Tim Obiefule, a Lawrence High School senior who has been involved in Upward Bound since he was an eighth-grader. He's planning to attend college next year to study computer engineering; when he started the program, that wasn't in the plans.
He said Upward Bound has helped him pay for college visits, application fees and study manuals he wouldn't have been able to afford on his own.
"I never really thought about college before," he said. "I wasn't sure what I wanted to do. I wasn't even sure how college could help me. I think cutting it would be a mistake. People that don't have a lot of money shouldn't be left out."
Copyright 2018 The Lawrence Journal-World. All rights reserved. This material may not be published, broadcast, rewritten or redistributed. We strive to uphold our values for every story published.