They rattled off facts about two pigs in a pen behind them and told the children that the gigantic John Deere tractor they were looking at cost $112,000.
But the schoolchildren still had questions for their guides to agriculture. Were the pigs married? No. Could a tornado pick up the 10,000 pound tractor? Yes. And could the tractor go through a car wash? No.
"They take you by surprise, that's for sure," said Kevin Lierz, a volunteer at the annual "Slice of Agriculture" event for fourth-graders at the Douglas County 4-H Fairgrounds, 2110 Harper St.
Nearly 900 fourth-graders from Lawrence, Eudora and Baldwin are expected to have visited the fairgrounds Thursday and today to learn about farming.
In its fifth year, the event was organized by groups including the Douglas County Farm Bureau and the Douglas County office of Kansas State University Research and Extension.
Most Lawrence families no longer have farm ties, said Brenna Wulfkuhle, a western Douglas County farmer who helped organize the event.
"They need to know where their food comes from," she said of the children. "They're future consumers, and we want them to be educated."
The students rotated among eight stations, learning about pigs, food safety, farm machinery and cattle.
At one station, Lawrence High School senior Michelle Colgan and another volunteer explained Colgan's cow, Tinkerbell.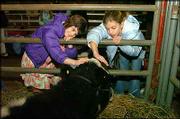 With the cow behind them, the pair explained there are 2 1/2 cows per person in Kansas, that one cow hide is enough for 140 leather baseballs and one steak has more protein than four cans of corn.
"About how fast can Tinkerbell run?" one child asked.
"Faster than me," said Colgan, who is involved in 4-H and the National FFA Organization.
At the farm machinery station, children admired the 10,000 pound green tractor.
"When a farmer goes to work, this is his office," Lierz, a Deems Farm Equipment salesman, said of the tractor's cab.
He let the class take turns sitting in the cab, which had air conditioning, heating, a CD player and a radio.
Deerfield School fourth-grader Solo Ceesay and his classmates discussed whether they could live in the cab.
"Most people said we couldn't," the 10-year-old said. "(But) it's comfortable inside."
At the pig station, Baldwin Elementary School children gathered in front of a pen of two pigs and learned it takes 750 pounds of feed to get a pig to 250 pounds, which is market size. They learned pigs' ears are notched for identification like cars have license plates.
Baldwin fourth-grader Victoria Jaskiewicz said she liked watching the pigs' antics.
"The pigs, they make a big hole so they can lay down," the 10-year-old said. "They scooch and make a big dent in the dirt. It was so cute."
The event was organized by Douglas County farmers, FFA leaders, 4-H leaders, Lawrence public schools teachers, the Douglas County Farm Bureau, the Douglas County Conservation District and the Douglas County office of K-State Extension. Other groups and businesses helped financially.
Teachers who brought their classes to the event had received lesson plans to prepare their students.
Copyright 2018 The Lawrence Journal-World. All rights reserved. This material may not be published, broadcast, rewritten or redistributed. We strive to uphold our values for every story published.