Baghdad, Iraq — Three days before Sunday's historic balloting in Iraq, there's widespread agreement that Iraq's security forces are incapable of stopping election day violence.
Instead, American forces will be called in to respond to any efforts to derail the election with attacks on polling places and voters.
American military officers said Iraqi security forces were improving, but they remained poorly trained, ill-equipped, reluctant to fight and infiltrated by insurgents.
The inability of the Iraqi forces to take over even basic security chores more than a year after the United States began training them is a major hurdle to the success of U.S. policy in Iraq -- whatever the outcome of Sunday's balloting.
"We can't stay in front of this over the long haul and be successful," Gen. George W. Casey Jr., the top commander in Iraq, said this week.
"We're an outside force and we're viewed by the people, particularly in (Sunni Muslim parts) of the country, as an occupation force," Casey added. "We've got to get the Iraqis in front to ultimately prevail here."
The Iraqi army and police forces are better trained than they were in 2003, when they were given a week's training and a gun.
But the security scene across Iraq is a stark reminder of how unprepared the Iraqis are as Sunday's vote approaches:
l In Mosul, violence remains uncontrolled, despite the presence of thousands of American troops and more than 4,000 Iraqi police and army reinforcements sent to supplement the 8,000 Iraqis already on duty there. Brig. Gen. Carter Ham, who's in charge of American forces there, said the challenge in Mosul was the lack of a "credible and capable police force."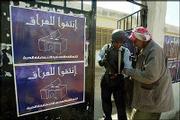 l There are 11 Iraqi army battalions in the areas controlled by the U.S. Army's 1st Infantry Division south of Mosul, each with about 900 men and based in key cities such as Samarra, Tikrit, Baqouba, Balad and Kirkuk. Only two or three are capable of conducting operations much beyond roadblocks, U.S. officers say. Infiltration remains a major problem. Soldiers from the 1st Infantry arrested one battalion commander for allegedly collaborating with the insurgents.
l More than four months after U.S. and Iraqi forces retook Samarra from insurgents, U.S. and Iraqi units are still waiting for the arrival of new police recruits being trained in Jordan or Baghdad. Insurgents carry out an average of five attacks a day there, according to Maj. Gen. John R.S. Batiste, commander of the 1st Infantry Division.
l In Baghdad, where there are seven Iraqi army battalions, many of the soldiers wear ski masks and street clothes to hide their identities out of fear that insurgents will kill their families.
U.S. troops have been told to let Iraqi soldiers and policemen guard the country's 5,500 polling places, to avoid images of Iraqis voting under the shadow of American guns.
But U.S. troops also have been told that they'll have to respond quickly to major attacks and that they'll need to enforce a ban on nearly all vehicle traffic across the country beginning today.
Iraqi soldiers and policemen have been tasked with searching everyone who comes to vote and with securing the immediate areas around the polling places, U.S. officers say. Soldiers with the 1st Cavalry Division in Baghdad are planning to search houses around voting places.
On Thursday:¢ The al-Qaida affiliate led by Jordanian terror mastermind Abu Musab al-Zarqawi posted a video on the Internet showing the murder of a candidate from the party of interim Prime Minister Ayad Allawi.¢ Iraqi newspapers published for the first time the names of some 7,000 National Assembly candidates, many of whose identities had previously been kept secret to protect them from assassination.¢ Insurgents attacked seven polling stations in Kirkuk with mortars and machine guns.¢ Armed men blew up a school administration building in Samarra. The building was scheduled to be a voting center.
Copyright 2018 The Lawrence Journal-World. All rights reserved. This material may not be published, broadcast, rewritten or redistributed. We strive to uphold our values for every story published.