An-Weiwas sent to a Chinese labor farm from 1969 to 1971.
Now he sees Chinese people come to the United States who dislike some foods.
"I say, 'You did not have a rich experience when you were young,'" said the 62-year-old college professor. "I accept any accommodations, and I eat any food."
An-Wei, who goes by one name and lives in China, spoke to the East Asian studies class Friday at Lawrence High School.
He is a former interpreter on high-level diplomatic visits from people such as President Jimmy Carter.
He teaches American literature, English and U.S.-China relations at Xian United University in China. The city of Xian and the surrounding area has about 6 million people.
An-Wei told about 20 Lawrence High students that many schools in rural China were poor. Some students have class under a big tree, or in a cave, he said.
An-Wei said he has helped link sister cities, states and universities in China and the United States. He helped link Minnesota and his province, Shaanxi. He also helped link Kansas City, Mo., and the city of Xian.
Since 2002, people from Kansas City, Mo., and Lawrence have been donating money to renovate three rural elementary schools in Shaanxi province, he said.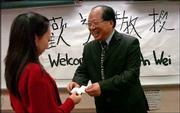 "Through this kind of service and help, the American image in the heart of the Chinese is greatly enhanced," An-Wei said. "They think this is a wonderful country."
He said many rural schools were poor because their local governments were poor and rural officials aren't always fully aware of the importance of education, he said.
The help from the United States has motivated local officials to help the schools also, he said.
"They say, 'These Americans come from thousands of miles away.' Now we have to do something."
Farmers make up a large part of China's population, and many of them are illiterate, An-Wei said. It's important that farmers' children go to school, he said.
"People are illiterate. They are looking like chickens for food in the field," he said after his talk to the class. "They don't care about democratic electionor any of that."
Mike Ortmann, who teaches Lawrence High's East Asian studies class, said he was glad An-Wei came.
"It showed (my students) the willingness of the Chinese to establish rapport with Americans," he said.
An-Wei visited Lawrence on Friday at the end of a two-month visit to the United States.
Copyright 2018 The Lawrence Journal-World. All rights reserved. This material may not be published, broadcast, rewritten or redistributed. We strive to uphold our values for every story published.