Bad weather is the likely culprit of a blood supply shortage in the Lawrence area, according to officials with the Community Blood Center of Greater Kansas City.
The center provides blood to 75 hospitals throughout Kansas and Missouri, including Lawrence Memorial Hospital.
"We're low, but we're critically low for Type O blood in general," said Kathy Boldt, manager of collections for the center's Lawrence branch, 1410 Kasold Drive. "We have a less-than-one-day supply of O blood on the shelf."
Fewer people on average donate blood in January, said Steve Janasz, manager of media relations for the center. But the recent ice storm exacerbated the problem, he said.
More than half the blood collected by the center comes from mobile blood drives at places such as schools and businesses.
"We had to cancel quite a few drives because the schools or businesses closed because of the weather," Janasz said. "And with the ice on the streets, we just don't have the people coming to our offices throughout the day like we typically do."
With branches in Lawrence, Topeka, Kansas City and in Missouri, the center needs to draw about 550 units a day to keep up with hospital demand.
"I'd say we've probably been getting about 400 units of blood a day," said Kim Patrick, director of marketing for the center.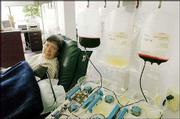 The need for blood is based on how much O negative blood is on hand. Trauma centers receiving blood from the center are stocked with O negative blood, which can be given to all people regardless of their blood type.
But Janasz said people who didn't have O negative blood also should donate if they could.
"There is an increased need for type O blood, but we don't want to discourage other people from coming in and donating blood as well as platelet donors," he said.
To schedule a blood-donation appointment, call the Community Blood Center at 843-5383. The center is at 1410 Kasold Drive.
Copyright 2018 The Lawrence Journal-World. All rights reserved. This material may not be published, broadcast, rewritten or redistributed. We strive to uphold our values for every story published.