Jeanne Ellermeier's opinion on roundabouts is kind of like the traffic-calming devices -- flowing several different directions at once.
"I think they are a pain in the neck," Ellermeier said Monday, "but I also think they work."
Ellermeier lives in the Indian Hills neighborhood and supports city efforts to slow traffic on Louisiana Street. She thinks roundabouts have been effective in slowing traffic in other parts of town and are no more dangerous than a typical four-way stop sign.
"People don't like them, but that is because people don't like to slow down," she said.
Debate about the traffic-calming devices has been unceasing for several years now, leaving some motorists dizzy with dissatisfaction. So when the Lawrence City Commission meets tonight to discuss a proposed roundabout at 19th and Louisiana streets, a wider discussion could begin.
"There is certainly a lot of division in the community about roundabouts, and we need to talk about that," City Commissioner Sue Hack said. "Some people love them, but for some other people 'hate' isn't a strong enough word to describe their feelings."
Several city commissioners have said they want to explore the idea of creating a marketing campaign -- maybe a city-produced TV commercial, billboard or new pamphlet -- to educate drivers on the best way to navigate roundabouts.
"We have to do our citizens a favor by reteaching people on roundabouts," Hack said. "We have to show them how to use them the right way."
First, city commissioners must ensure they're reading from the same lesson plan. In the last month, new questions have arisen inside City Hall regarding when roundabout construction is prudent.
In November, commissioners unanimously approved $250,000 for a roundabout project at 19th and Louisiana streets. But earlier this month, Mayor Mike Rundle said after doing more research on the subject he was unsure about the project.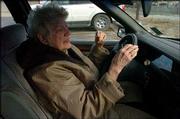 On Monday, Rundle said he was confident city officials needed to look at alternatives for the intersection. Rundle said he would urge fellow commissioners to reject a $37,000 contract with BG Consultants to create four roundabout designs for the intersection.
"I don't think there is much community support for a roundabout there," Rundle said. "I have had a lot of people thanking me for backing off on the project."
Rundle said he wanted a clearer understanding of the traffic issues the city was trying to solve at the intersection, and a detailed study of alternatives such as turn lanes or traffic signal improvements.
Plus, Rundle said, the intersection needs to be ranked against other potential traffic improvements that could be made in the city. The proposed roundabout has an estimated cost of $545,000.
"I'm sure there are a lot of people who would like to see that money spent elsewhere, even if it is spread throughout town fixing potholes and that sort of thing," Rundle said.
More discussion
City Commissioner David Dunfield, who has been a supporter of roundabouts, said he would be willing to "step back" on the project as well. But he, like Hack, wants to engage the community in a discussion.
"We need to have a discussion about what we're trying to do with roundabouts, and why they're superior in a lot of cases to traffic signals," Dunfield said. "The most frequent complaint I hear is that people don't know how to use them. We need to address that."
It won't be an easy task, said Patricia Sinclair, a Barker neighborhood resident who has been an opponent of the traffic devices. She said a marketing campaign to teach people the finer points of roundabouts was unlikely to work.
"The ones who are going to be the most receptive about that type of message are probably good, attentive drivers anyway," Sinclair said. "The ones who need it won't pay attention."
The City Commission meets at 6:35 tonight at City Hall, Sixth and Massachusetts streets.
Copyright 2018 The Lawrence Journal-World. All rights reserved. This material may not be published, broadcast, rewritten or redistributed. We strive to uphold our values for every story published.