The oldest building on Kansas University's campus now also is its newest.
Staff members from the Hall Center for the Humanities this week are moving into their new facility, which incorporates portions of the university's former powerhouse built in 1887. The center's director, Victor Bailey, said he was aware of only a handful of other buildings in the country specifically built for the humanities.
"We don't get new," Bailey said of humanities centers. "We usually have to get somebody's hand-me-downs. This will raise our profile quite considerably, I think."
The $6.2 million project includes the nine limestone arches and exterior walls of the powerhouse, which was designed to look like a palace in Oviedo, Spain. That palace now is a church.
The powerhouse had a rough life, being rebuilt after lightning strikes and fires in 1898 and 1989. It most recently was used as a storage space for facilities crews at KU, though its deteriorating limestone structure had been slated for demolition on several occasions.
"We're giving it an entirely new lease on life," Bailey said.
Marilyn Gridley, past president of the Historic Mount Oread Fund, was among those who fought to save the structure. She said crews had done a "marvelous job" incorporating the old and new buildings.
"The stone walls are holding their own beautifully along with what they built there," Gridley said. "I'm really quite thrilled. I can't praise the people who worked on it enough."
Bailey is equally pleased with the architecture and the new space for his staff.
The Hall Center provides public programming, endowed research positions, faculty seminars and aid to professors seeking grants.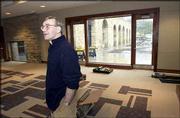 The 14,700-square-foot facility, east of the Dole Human Development Center on Sunnyside Avenue, includes a seminar room for 25 people, a conference hall that seats 120 and offices for staff, graduate students and resident fellows.
Bailey said he was especially excited about the conference hall, because the center's previous location, the Watkins Home on Sunflower Road, had only a conference room that would seat around 25.
"We can hold many of our own events here," he said. "You get tired of having things elsewhere, when nobody quite knows who's responsible for it."
The building also includes room for expansion, including a basement that wasn't in the original plans. The basement and unanticipated construction problems -- including the removal of pipes and tunnels under the site -- pushed the cost up from an originally scheduled $3.76 million to the final $6.2 million.
The building was funded with $4.07 million from the Hall Family Foundation in Kansas City, Mo., $260,000 in other private donations and $1.89 million in state funds.
The additions and complications also pushed the completion date back from September until now. But Bailey said the building was well worth the wait.
"I'm extremely pleased," he said. "In three years of designing it and building it, you're always working off plans and photos. To see the real thing, it's amazing."
Copyright 2018 The Lawrence Journal-World. All rights reserved. This material may not be published, broadcast, rewritten or redistributed. We strive to uphold our values for every story published.