Topeka — The state's new image brand -- "Kansas: As big as you think" -- is more expensive than once thought.
The $1.7 million advertising campaign designed to present a positive image of Kansas was unveiled Friday in simultaneous news conferences across the state. But news and some details of the campaign were inadvertently released earlier this week.
At that time, Kansas Department of Commerce officials noted they had received a $700,000 appropriation to work on "brand imaging." They also said additional funds within the agency had been used, but they declined to say how much.
On Friday, Sally Lunsford, a spokeswoman for the department, said the total tab for the campaign during its rollout was $1.7 million.
More than a slogan
State boosters said it was money well-spent.
Richard Forester, president of the Topeka Convention and Visitors Bureau, said the campaign was more than just a slogan.
The campaign includes television, radio and print ads that will start running Sunday across the state.
Those ads, which feature famous Kansans -- President Eisenhower and aviatrix Amelia Earhart -- are aimed at promoting the state's wide-open spaces that shaped their lives, and instilling state pride among Kansans.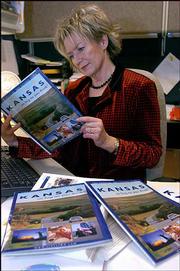 Then the campaign will place ads in national magazines to try to attract tourists and businesses.
"Our goal was to design a strong, dynamic, durable and flexible brand for the state of Kansas," Forester said during a news conference at the Brown v. Board of Education National Historic Site.
Becky Blake, of the Manhattan Convention and Visitors Bureau, said Kansans didn't realize how attractive the state could be to out-of-state tourists.
"People want to experience what Kansas has to offer," she said.
Lawrence agency
Callahan Creek, a Lawrence advertising agency, is handling the campaign.
John Kuefler, vice president of client services at the company, said the campaign was developed after "voluminous research."
"It's very evocative," he said of the television ads.
The campaign rollout has been somewhat rocky. Some have said the slogan is less than inspiring.
But Kuefler said any tagline could be lampooned, such as Nike's famous "Just do it."
By itself, he said, the slogan doesn't mean much, but backed up by the Nike ad campaign it is effective, he said.
Kuefler said the next step was to enlist current Kansas celebrities to do advertising spots for the campaign.
Commerce officials said Callahan Creek's portion of the brand image campaign budget was about $527,000.
That covered a wide range of duties, including design, research, planning, ad creation and the campaign launch.
More money sought
Lunsford, with the Commerce Department, said the agency would seek the same level of funding from lawmakers -- $1.7 million -- to continue the campaign.
She said funding for the project so far had come from lottery sales revenue that was diverted to the agency.
Many who attended the unveiling said the brand effort was worth it because Kansans needed to pump up their state.
Forester, who is a Texas native, said one of the first things he noticed when he moved to Kansas was how great the state was, although people didn't brag about it.
"Kansans are not boastful. They think it's somewhat unseemly to brag," he said.
Several people Friday who previewed the television ads, which featured dramatic black-and-white footage of Eisenhower and Earhart, said they got a little choked up when they watched the spots.
But later House Speaker Doug Mays, R-Topeka, also made choking sounds after he was told the ad campaign cost $1.7 million.
"I'm not enamored with it," Mays said of the campaign.
When asked if the Legislature would continue to fund the project, he said he didn't know.
Copyright 2018 The Lawrence Journal-World. All rights reserved. This material may not be published, broadcast, rewritten or redistributed. We strive to uphold our values for every story published.