Overland Park — The new year might be a week old already, but that didn't seem to matter to Free State High's boys basketball team Friday night.
The Firebirds were determined to start 2005 with a bang.
Free State easily defeated Shawnee Mission South, 67-48, in a game characterized by the Firebirds' crisp play despite a 21-day layoff since their last outing -- an emotional 59-48 victory over city rival Lawrence High on Dec. 17.
"Coming into the game, I told the guys I was worried about them being flat," said FSHS coach Jack Schreiner, whose 5-1 squad tallied its third straight victory.
"Our JV guys were a little flat in their game, and any time you have that much time off, you're going to be concerned. But, wow, we were anything but flat."
Friday's contest looked to be special from the start when the Firebirds' leading scorer, Brady Morningstar, scored on a dazzling up-and-under move that wowed the crowd.
The senior was far from done, though.
After knocking down a three-pointer that gave Free State a 7-3 advantage, the 6-foot-3 Morningstar found himself out in front of the pack and threw down a one-handed jam.
The guard, who is being recruited by Wichita State, once again showed what quickly is becoming the most exciting weapon in his repertoire when he caught a long alley-oop pass from teammate Matt Green in the second quarter and threw down a two-handed lob dunk.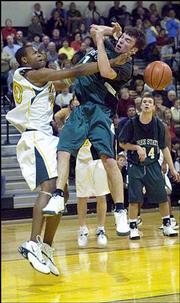 The play not only brought Free State's faithful to their feet, but also gave the Firebirds a 12-point first-quarter lead.
"You know, it's really just two points like any other shot," said Morningstar, whose first prep dunk came in Free State's win against LHS when he followed a long miss. "But it definitely gets me -- and probably everybody else -- more pumped up."
While Morningstar later misfired on a nearly identical oop attempt, the Firebirds had few other miscues.
Free State's full-court press caused the Raiders more than just an occasional fit. At the half SM South had scored just 15 points, but had committed 18 turnovers.
"That's the best we've run that press all season," Schreiner said. "The guys were not only playing with exceptional energy, but just executing flawlessly."
On offense, too, and it wasn't just Morningstar, who led the Firebirds with 15 points.
Free State's other starters Green (six points), Sam Buhler (nine), Danny Pike (six), and Bobby Underwood (five), and also reserves Damien Dillon, Nick Ayre, and Scott Heitshusen all moved cohesively with and without the ball and almost scored at will.
If it hadn't been for the fact that both SM South's David Kovarik and Ryan Jehle got exceptionally hot hands in the fourth quarter when they combined to score 24 points -- the same output the Raiders managed as a team through the first 24 minutes -- then the game might really have looked lopsided.
"I think we definitely sent a message this game," Morningstar said. "I don't know if they are necessarily as bad as they were early on, but I think they we showed we can play all right together."
Schreiner said an even better indicator of his team's impressive start to the second half was when an opposing fan pulled him aside after the game and told him, "Man, you're team is fun to watch."
"That's about the best kind of compliment you can get," said a smiling Schreiner, whose team will play Olathe East on Tuesday at Free State.
| | | | | | | |
| --- | --- | --- | --- | --- | --- | --- |
| Free State | 17 | 16 | 16 | 18 | -- | 67 |
| SM South | 6 | 9 | 9 | 24 | -- | 48 |
Three-point goals:
Free State 2-12 (Morningstar 1-3, Underwood 1-3, Green 0-3, Heitshusen 0-3); SM South 6-11 (Dodd 2-2, Kovarik 4-6, Jehle 0-1, Monroe 0-1, Sargent 0-1).
Fouls:
Free State 18; SM South 19.
Turnovers:
Free State 11, SM South 24.
Free State (67)
Brady Morningstar 7-12 0-0 15, Matt Green 3-6 0-0 6, Sam Buhler 3-4 3-4 9, Danny Pike 2-3 2-4 6, Bobby Underwood 1-4 2-4 5 Nick Ayre 1-3 4-6 6, Scott Heitshusen 4-7 1-4 9, Damien Dillon 1-1 2-2 4, Kyle Schreiner 1-4 2-2 4, Christian Ballard 1-3 0-0 2, Nick Devin 0-0 0-0 0, Brian Murphy 0-0 0-0 0, Ben Wilson 0-0 1-2 1. Totals 24-47 17-28 67.
SM SOUTH (48)
Rustin Dodd 3-4 0-0 8, David Kovarik 5-8 0-4 14, Jo Jo Scott 0-2 0-0 0, Matt Winkler 0-1 0-1 0, Eric Monroe 1-7 2-4 4, Ryan Jehle 4-10 9-9 17, Nate Sargent 0-1 1-2 1, Anthony Hill 0-0 0-0 0, Derek Donovan 1-1 0-0 2, Bryce Morris-Lee 0-0 0-0 0, Brad Lewis 1-1 0-0 2, Tyler Becker 0-0 0-0 0. Totals 15-35 12-20 48.
Copyright 2018 The Lawrence Journal-World. All rights reserved. This material may not be published, broadcast, rewritten or redistributed. We strive to uphold our values for every story published.