Three Kansas University football recruits and two city standouts have been selected to play in the Kansas Shrine Bowl.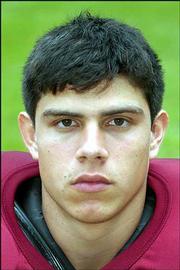 Lawrence High linebacker/running back Ian Handshy and Free State lineman Philip Weinmaster -- both All-Sunflower League selections -- were named to the East roster for the July 30 game at KSU Stadium in Manhattan.
"There's only about 68 kids selected, so it's a pretty big honor to be one of those kids," said Handshy, who has recruiting visits scheduled with Baker University and Washburn University this month and also plans to visit Butler County Community College.
Handshy also is pondering an offer to be a preferred walk-on at Kansas University.
"It'll be fun to play with those guys I played against in high school for the East before we go off to college," Handshy said.
Handshy and Weinmaster were joined on the East squad by a pair of KU recruits -- Kansas City Washington defensive back Darrell Stuckey and Pittsburg quarterback Kerry Meier. A third KU commitment, Newton lineman Adam Welty, was named to the West squad.
Baldwin lineman Kyle Ruona, a first-team All-Frontier League selection, also was named to the East team.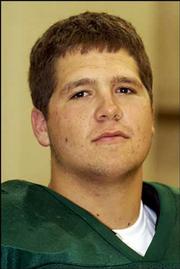 Weinmaster was an All-Class 6A selection by both The Wichita Eagle and Topeka Capital-Journal, while Handshy received honorable mention in both newspapers.
Meier passed for 924 yards and nine touchdowns and rushed for 634 yards and nine TDs despite battling a foot injury his senior year. He led Pittsburg (7-4) to the state quarterfinals. The 6-foot-2, 200-pounder picked KU over Kansas State, Texas A&M;, Colorado State, Wyoming, Army, TCU and Tulsa.
Rivals.com ranked Meier, Welty and Stuckey first, third and sixth among Kansas high school seniors.
Free State coach Bob Lisher will serve as an assistant coach for the East in the annual charity game.
July 30 at KSU Stadium in ManhattanEast rosterBlake Alexander, Effingham; Furu Ambam, Topeka Highland Park; Chad Ammons, Fort Scott; D.J. Barnett, SM West; Joe Blaes, Cherryvale; Adam Booth, Leavenworth; Martin Burke, Baxter Springs; Ryan Capp, BV West; Zach Clithero, Olathe East; Tyler Cox, Wamego; Dan Dellasega, Pittsburg Colgan; Travis Greer, Olathe North; Ian Handshy, Lawrence; Nick Hasenkamp, Centralia; Brad Haug, Baileyville; Kyle Ingenthron, Topeka Hayden; Andre Jones, Olathe East; Andy Logan, SM East; Kenny Maus, Pittsburg Colgan; Kerry Meier, Pittsburg; Dustin Moomau, Olathe North; Bryce Morris, Olathe South; Doug Onnen, Humboldt, Humboldt; Andrew Patch, SM West; Blake Raaf, Holton; Kyle Ruona, Baldwin; Jeff Schaper, Cherryvale; Andy Schmitz, Axtell; Naji Shinskia, Topeka Highland Park; Nick Stringer, Topeka Hayden; Darrell Stuckey, KC Washington; Tyler Thoreson, Marysville; Geno Waters, Blue Valley; Phillip Weinmaster, Lawrence Free State.Coaches: Tom Stringer, Topeka Hayden (head coach); Bob Lisher, Free State; Scott Wright, BV West; Brooks Barta, Holton; Walt Alexander, Effingham; Jerry Bainum, Centralia.West rosterJesus Alvorado, Ulysses; Jonathan Antrim, Salina Central; Drew Bietau, Manhattan; Ty Brunswig, WaKeeney; Gary Chandler, Wichita Heights; Jordan Cruz, Hutchinson; Quinn Cunningham, Salina South; Kendall Fisher, Garden Plain; Jason Gragg, Salina Central; Dustin Heckrot, Salina South; James Hensley, Rose Hill; John Hester, Campus; Mike Hester, Hays; Aaron Holman, Maize; Austin Kingsbury, Smith Center; Brock Lohr, Goodland; Kyle Lorson, Hope; Mitch Mason, Hesston; Matt Myers, Southeast-Saline; Blake Ringwall, Rose Hill; Donte Rogers, Wichita Northwest; Mac Rosel, Liberal; Levi Salmans, Hanston; Darrin Seiwert, Conway Springs; Matt Smith, Oakley; Shawn Smith, Hutchinson; Trevor Stewart, Circle; Luke Templin, Andover Central; Sean Teter, Garden Plain; Cole Waddell, Derby; Brandon Wells, Great Bend; Adam Welty, Newton; Chris Whitchurch, Wichita Collegiate; Matt Wykes, Conway Springs.Coaches: Dan Adelhardt, Hesston (head coach); Lucas Aslin, Derby; Marvin Diener, Salina Central; Greg Slade, Rose Hill; Greg Rosenhagen, Conway Springs; Randall Rath, Oakley.
Copyright 2018 The Lawrence Journal-World. All rights reserved. This material may not be published, broadcast, rewritten or redistributed. We strive to uphold our values for every story published.