An Old West Lawrence home at 820 Ohio Street sustained about $200,000 in damage this morning in a blaze that burned more than two hours before firefighters brought it under control.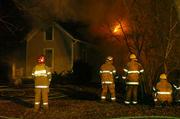 Three people were inside the home when the fire started, but no one was injured.
The home is used as a practice space for "The Esoteric," a veteran Lawrence heavy metal band (See more about the band).
Lawrence-Douglas County Fire & Medical crews got a 911 call to the home about 3:05 this morning. Crews arrived at 3:09, reported fire in the kitchen, and began attacking the fire from inside the home.
But crews had to move to an outside attack after the fire spread to the home's second floor and attic. The home's old age and construction style helped the fire move quickly throughout the home, deputy chief Mark Bradford said.
The fire was under control at 5:40 a.m., Bradford said.
Damage is estimated at $175,000 to the home and $25,000 to the contents.
The cause is still under investigation.
---
For more on this story, see the 6News reports at 6 p.m. and 10 p.m. and pick up a copy of Wednesday's Journal-World.
Copyright 2018 The Lawrence Journal-World. All rights reserved. This material may not be published, broadcast, rewritten or redistributed. We strive to uphold our values for every story published.