Police seized 16 kegs of beer and cited several people for liquor violations during a weekend raid on a Kansas University fraternity party.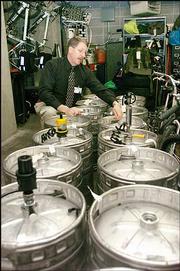 KU officials are investigating the party at the Phi Kappa Theta house, 1111 W. 11th St., and said the allegations involved "willful and egregious" violations of campus alcohol rules.
Lawrence Police went to the house about 11:30 p.m. Saturday after getting a call about a noisy party, Capt. David Cobb said. Officers saw men sitting at a table outside the home charging people $5 per cup for all the beer they wanted to drink, Cobb said.
Men at the party told police they had been checking identification at the start but that eventually it became too crowded to check everyone's age.
Police said there were seven people cited and ordered to appear in municipal court. KU officials said there were eight cited.
City prosecutor Jerry Little said the men might be eligible for diversion, depending on whether they had criminal history.
KU leaders said the party wasn't registered with the Interfraternity Council as required. Campus rules prohibit fraternities from using kegs at parties and from selling cups or tickets for an unlimited quantity of alcohol.
KU is expected to file a formal complaint today against the fraternity and begin an investigation by the Interfraternity Council, said Marlesa Roney, vice provost for student success.
"I am dismayed by the allegations of a willful and egregious violation of university policies and, frankly, the trust of our community," she said.
In an effort to reduce underage drinking at parties, the Legislature in 2002 passed a law requiring all kegs sold at liquor stores to be registered.
The idea was to make it easier to find and prosecute people who illegally give beer to minors.
Little said he wasn't familiar with details of this weekend's party but predicted the case wouldn't be affected by the new law.
"Occasionally, there's a keg and nobody wants to own up to it," he said. "If they already identified those individuals when they did the raid, we might not necessarily need the law."
A 6News reporter who went to the house Tuesday for comment was asked to leave.
---
6News reporter Brooke Wehner contributed information.
Copyright 2018 The Lawrence Journal-World. All rights reserved. This material may not be published, broadcast, rewritten or redistributed. We strive to uphold our values for every story published.